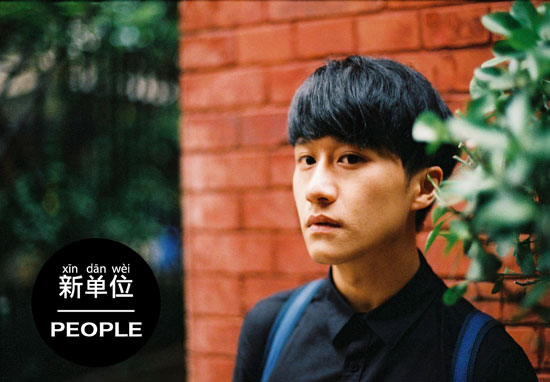 March Featured People: MOJO Wang
Interview &Translation / Zhou Me
1. Welcome to Xindanwei.com, you are the first artist featured in Xindanwei People! Would you mind to introduce yourself a bit?
Thanks for having me here, I am a 23-year-old boy who is based in Shanghai as an illustrator.
2. We heard that your major is not quite related to art, what prompted the idea for your painting/illustrating and what excited you to make you undertake it?
It's a wierd story. Basicly, my family didn't like the idea of me dreaming to be an artist or an illustrator, that's why I was major in engineering industry. At first, everything was just a hobby to help me getting rid of all the works from university. And sometimes I do think about it, why I am doing this and why I am so in loving with it. Maybe when I am painting/illustrating, I feel myself in deed, I feel alive.
3. Would you be willing to share your thoughts on homosexuality and what you try to express with the current exhibition in Xindanwei: Future Lovers?
On homosexuality? I really don't have a lot of things to say, since I don't like tagging people – gay not gay, fat or skinny, cute or ungly. I mean…people are people in my mind, no matter where are you coming from in what time and doing what, humans are all the same to me. What I wanna say is there is really no need to say something on homosexuality, it's just like you are asking an apple what are its thoughts on other apples. I don't think it would have anything to say.
Future lovers, eh…at first it's something about that we don't have gay marriage here right now. So it's a blessing to those gay couples in the future. I guess some people think I should say that, haha, but it is really not a big part of my original idea. The main thing is that, I wanna to express one kind of feeling about the future from the presents and past, just a saddness and some kind of meaningless disco way to enjoy life. I guess it's because I am kind of a hedonism with tears, haha, actually a lot of people in the society is a hedonism with tears – we don't care about the really things but to focus on bull shit, which hurts we back in all kinds of way. Or we were broke that's why we choose to live in a shitty world instead of changing it. If the whole world is going to the end, why bother to fight for it, just enjoy it, since we are doomed to go th hell.
4. Your third solo illustration exhibition in Xindanwei was very great, what are your future steps?
Try to keep doing what I am doing while I really love it, I guess. I don't know, life is full of superises, you know? Maybe I will be hit by a car tonight and go hell, who knows? My point is I don't really thinking about the future right now.
5. What do you read/watch for inspiration?
Raymond Carver is one of my favourite writer, I cannot say that his books inspire me, but it touches me everytime and just change the way I look the world. Recently I am so attracted by Julia Leigh's "Sleeping Beauty", what a beautiful movie!
6. Thanks again for providing Xindanwei.com this opportunity to interview you. Any final thoughts for our readers?
Well…not exactly…ha, I guess, have a nice day! Apart from that, you are more than welcome to tell other stories about you/your work. Hope can hear from you soon.