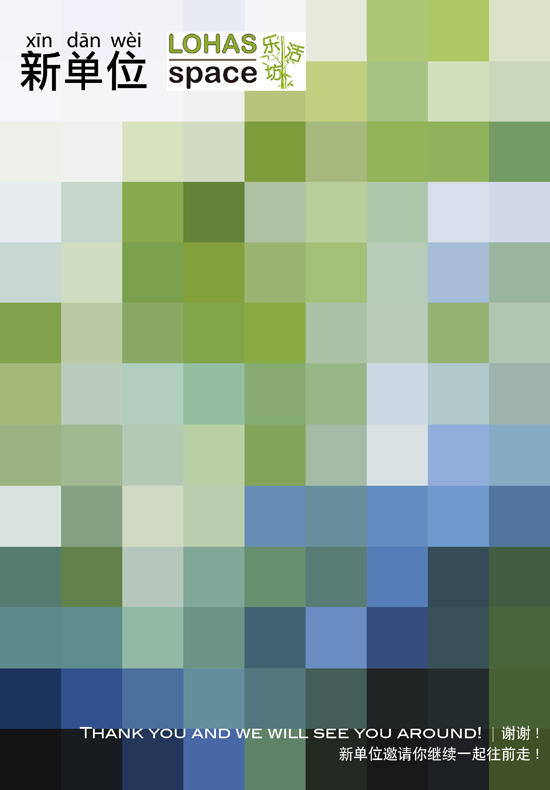 Since July 2009, Xindanwei,the first coworking community in China, the brainchild of three co-founders, Liu Yan, Chen Xu and aaajiao, has learned and grown under great support from all our coworkers and friends. We are grateful. To build and grow alongside a community has been a magnificent experience for us and we hope you feel the same way too. And now we decide to move on and get into the next stage of development. Here is to briefly introduce Ask Lab, initiated by our co-founder Liu Yan and it is a social enterprise dedicated to open innovation and facilitating our Xindanwei community to co-create solution for grand challenges, with partners across Asia, Europe, US and Africa.
From June 1, Yongjia Road 50 will be known as"LOHAS space". By the way, the new managers have been hosting training and education events at XinDanWei for the last year so some of you have met them already. We're happy to say they are working together with XinDanWei and the new Ask Lab to keep things familiar at Yongjia Road, including the values of co-working, collaboration, and community.
Andrea Liu is one of the new managers of LOHAS space, she said, "XDW friends are always welcome and we're looking forward to meeting more of you so drop in anytime. We know XDW has done an amazing job to grow this community and it is an honor for us to continue in their footsteps." You can learn more at www.LOHASspace.com
SPECIAL WELCOME OFFER: For the month of June, LOHAS space is offering discount drink coupons to anybody who signs up to their newsletter. The first edition is coming out mid-June with the details. Please join at this link: http://eepurl.com/AcYBb
CO-WORKING SPACE OFFER: LOHAS space will have a special rate until the end of the year for any desk member who signs up in June. There are limited spaces so if you want to work in a great environment with an active business community, please write to Andrea at contact@lohasspace.com for more information.
OPENING PARTY: Stay tuned for upcoming event announcements at LOHAS space, including a party that will give XDW and LOHAS space friends a chance to get to know each other and meet the new managers.
Any other comments or questions about LOHAS space, please contact Andrea Liu at 021-5213-0789 or email tocontact@lohasspace.com