bookable event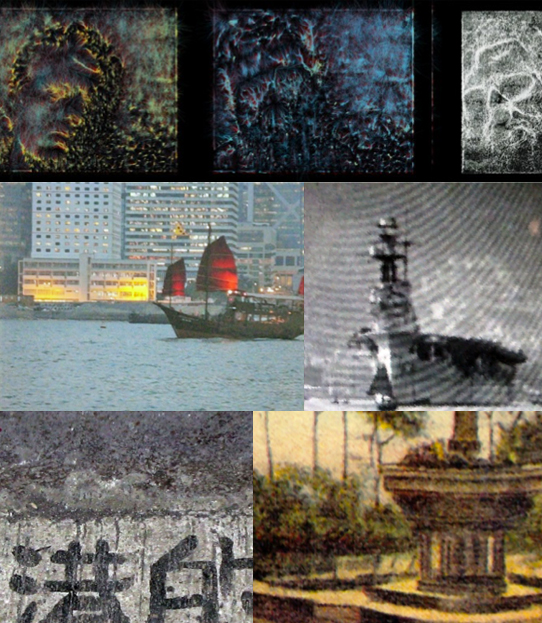 Lecture and film play presented by Linda Lai and Hector Rodriguez at School of Creative Media, City University of Hong Kong
Time: 15:00-18:00 Saturday July, 17th
Cost:free
Host:Linda Lai
"Meditations on a Minor History" Part 1 – VOICES SEEN, IMAGES HEARD
11.2009 / Hong Kong / 27m 58s / PAL / aspect ratio 3:4 / color + b/w / Stereo sound A Linda Lai video
Synopsis: A historian, also an interdisciplinary artist, engages in a self-dialogue of how to write the history of her city, Hong Kong. Drilling the disparate mines of sights and sounds, she re-examines the power and limitation of ocular epistemology, which favors visual perception as the dominant form of knowing. As she makes her way through the scanty and homogenous visual documents available, she re-imagines a city that has a precarious history of holding onto its look or preserving its architectural integrity at the interest of real estate development. In response, she re-constructs a visual essay that is also a collage of lost surfaces and shadowy fragments of existence. Her meditation leaves open the potential meanings of each of the sight-and-sound fragments that seem to have spoken to her, asking how feasible it is to access the past.
Artist's Statement:
Voices Seen, Images Heard is a work of experimental visual historiography based on visual ethnography. I have always been an earnest image-collector – photos, newsreels, movies with real location shots, drawings, found texts and graphics. I attend especially to the less noticeable details of these found objects, and I realize there's a lot to the 'surfaces' of things handed down to us from the past. I naturally find collage a powerful artistic form and strategy, and have adapted it to videography. In the process of it, one intriguing creative problem is how to embed still images in a video work; the other is what to do with available fragments that do not immediately form a rationail whole. What I have done in Voices Seen is to liberate the fragments of found sounds and images from the domination of discourses, juxtapose them with my own video diaries, to let each fragment speak and perform to us.
 Voices Seen is the first of a series meditation notes in the form of video essays on the thought process of a historian attempting to re/un-cover the lost sights and sounds of a city whose 'appearances' constantly 'disappear' by the logic of progress and development. I have been driven by a strong desire to 'see' and 'hear' for myself… What did people look like? Who walks on the street? How did they talk? What did they sound like? In the light of phenomenological thinking, I highlight the historian's desire to gain access to, and the impossibility of sensual perceptual dwelling in the past — even in the presence of a huge archive! The irony is – a lot of the Cantonese sounds I've found are not comprehensible to me. I look at them and listen – much like a stranger in the midst of a foreign tongue.
BIOGRAPHY:
Linda Lai is a Ph.D. in Cinema Studies (NYU), currently Associate Professor at The City University of Hong Kong's School of Creative Media, and Leader of Critical Intermedia Arts. She is an interdisciplinary artist, curator, and founder of the new media art group The Writing Machine Collective (2004.7) and interdisciplinary art platform The Floating Projects Collective (2010.2). Her works have a strong concern for how language moderates our access to reality, subtly grounded in a feminist sensibility that integrates critical theory, film theories and auto-visual ethnography. Her digital works have been shown in the Hong Kong Art Biennial and funded exhibitions. Her videos often challenge genre boundaries and experiment with found footage, compilation, collage, image-text relations, soundscape, and micro/meta-narrativity. Her video works have been shown in Oberhausen, Barcelona, Paris, Birmingham, Hamburg, Berlin, Vienna, Athens (Ohio), Sydney, Taipei, Kaohsiung, Kuala Lumpur, New Delhi, Seoul and Hong Kong. She has developed an intimate image style that reflects her broader interest in history and cultural studies.
http://sweb.cityu.edu.hk/smllai (personal website hosted at City U, HK)
http://floatingprojectscollective (The Floating Projects Collective)
http://writingmachine-collective.net/news.html (The Writing Machine Collective)
Host:Hector Rodriguez
Generative Image Creation Method Using Optical Flow
There is a tradition of contemporary art that aims to break away from preconceived goals. The aesthetic form and order of the work no longer precede the means or techniques employed. Instead of starting out with a predefined idea of the final outcome, artistic work unfolds as the experimental exploration of a set of technical operations.
The artist starts out by choosing one or more computational procedures (algorithms) without making any assumptions about the aesthetic possibilities that those procedures might be capable of. The working process involves treating the chosen algorithm as a black box that must be opened, analyzed, and transformed.
This procedural approach requires opening the digital black box to discover unforeseen effects that can only arise through experimental exploration. The artist thus refuses to regard technology as the transparent conduit of some previously fixed intention. To use the terminology of actor-network theory, technologies now function as mediators rather than intermediaries.
Flowpoints is a series of digital works, mainly videos and prints, which exemplify an experimental and discovery-oriented method of working with media technologies. This presentation outlines the details of this method, explaining how computer science concepts can function as expressive or artistic media while keeping faith with important tendencies of contemporary art. (Rodriguez)
ARTIST'S BIOGRAPHY:
Hector Rodriguez is a digital artist and theorist. His digital animation Res Extensa received the award for best digital work in the 2004 Hong Kong Art Biennial and has been shown in India, China, Germany, and Spain. His game system CoPerspective was a finalist in the Games Meets Graphics competition of the Eurographics 2006 conference held in Vienna. His essays about film theory/history and digital art have been published in Screen, Cinema Journal, and Game Studies, and he has participated in various art and technology conferences. He was Artistic Director of the Microwave International Media Art Festival, where he has also taught workshops on Java programming and organized an exhibition on art and games. He is currently Associate Professor at the School of Creative Media, City University of Hong Kong, where he teaches courses in Visual Studies, Contemporary Art, Play and Game Studies, Film Theory, Computation, and Critical Theory. He is also a member of the Writing Machine Collective in Hong Kong.
About 3S ReUnion:
An informal cross-disciplinary meeting held monthly in Shanghai by 3S Media Centre, an independent not-for-profit organization for experimentation, research and development in art, social and cultural, economical and political embedding of new media in the urban context. 3S ReUnion is established by culture/creative exchange advocate Liu Yan and new media artist Aaajiao (www.we-need-money-not-art.com), it has now rooted in the broader sense of knowledge sharing, collaborative knowledge creating and creative community building.
http://xindanwei.com
http://www.we-need-money-not-art.com/archives/tag/3s-reunion
Registrered users for this event:
(in total 17).