bookable event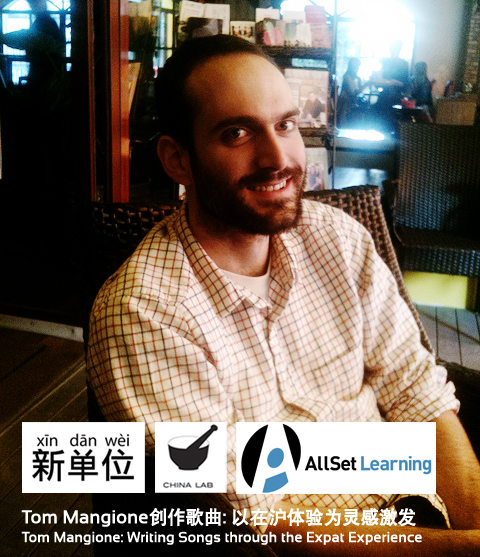 China Lab First Edition-Tom Mangione: Writing Songs through the Expat Experience
Time: 7-9pm, 24th November
Location: Xindanwei, 50 Yongjia Rd
Cost:
30RMB/person (providing tea, coffee, soft drink and snacks, every participant will receive a voucher to experience Work-a-thon for free. More about Work-a-thon, please see http://xindanwei.com/lang/en/2010/11/work-a-thon-november-promoroaming-in-the-night/; Free of Charge for Xindanwei Monthly and Yearly Member)
Important Notice:
-This is a reservation only event, seats are limited to the first 40 people who are registered at the event page of Xindanwei website.
Tom Mangione is an American singer-songwriter, poet, and journalist.  After living in Shanghai for three years, the expat experience has been a significant part of his life.  In this talk, Tom performs three songs and explains their lyrical content, touching on the various facets of how foreigners relate to China.
ChinaLab is a new series of events starting by AllSet Learning in collaboration with Xindanwei which is all about bringing people together to discuss the expat's experience in Shanghai. We want to explore the good, the bad, and everything in between about Chinese society and how it compares to Western society, and why this all makes China such an interesting place to live.
AllSet Learning is a new language learning consultancy focused on the issues faced by foreigners in Shanghai trying to learn Mandarin Chinese. More about AllSet Learning, please visit: http://www.allsetlearning.com/
Registrered users for this event:
(in total 10).