bookable event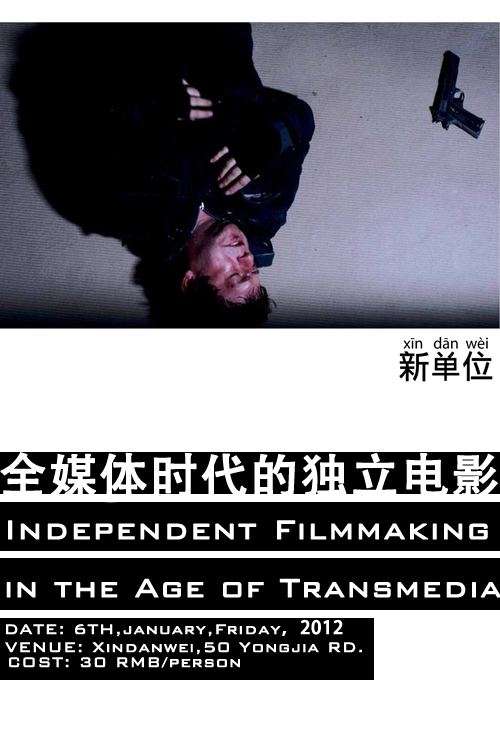 "Independent Filmmaking in the Age of Transmedia"
Time: 19:30,Friday, 6th Jaunary, 2012
Venue: Xindanwei, 50 Yongjia Rd.
Cost: 30 rmb/person, with fresh coffee and tea provided
Independent filmmaker, guest lecturer at NYU, Mr. Vladan Nikolic will bring his new film Zenith and meet with film lovers at Xindanwei.
Independent filmmaking has dramatically changed in the last two decades. Technological advances have significantly increased independent film and media productions, as well as new distribution possibilities, such as video-on-demand and internet streaming. Now, traditional linear storytelling in film and video is increasingly supplanted or replaced by hybrid 'transmedia' approaches that function across media platforms and formats. In this workshop, Mr. Vladan Nikolic will be sharing with us his first-hand experience in filmmaking, funding and distribution in the transmedia age, as well as discussing the opportunities for independent films. He will also share his thoughts of storytelling and internet promotion behind the success of Zenith.
We look forward to meet with the film lovers in Shanghai and discuss the global sharing of independent films.
About Vladan Nikolic
Vladan Nikolic is an award-winning filmmaker from Belgrade, Yugoslavia, who lives and works in New York City. He has produced and directed numerous fiction and documentary features. His feature LOVE (2005) premiered at the Tribeca and Venice film festivals to critical acclaim. It went on to win awards at film festivals in Geneva, Switzerland, Barcelona, Spain, and the Best Director Award at the Tiburon International Film Festival, San Francisco. His most recent work includes producing the feature "Here and There," which won the 2009 Best NY Narrative Award at Tribeca Film Festival, as well as a dozen other awards worldwide, and writing, directing and producing the feature film ZENITH, which is accompanied by an elaborate transmedia campaign. Due to its novel distribution strategy and transmedia approach, ZENITH has become an online cult phenomenon, with millions of downloads worldwide. Vladan also teaches Film at The New School, and at NYU.
Registrered users for this event:
(in total 36).