bookable event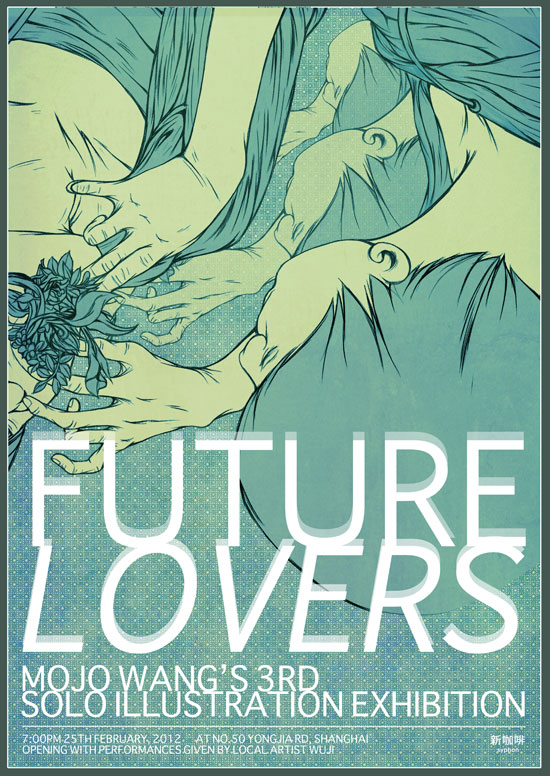 [lang_en]MOJO Wang – Solo Illustration Exhibition《Future Lovers》
Time: 25th February – 6th April, 2012
Venue: Xindanwei, 50 Yongjia Rd.
Cost: Free
Syphon presents
About the exhibition:
This is MOJO Wang's 3rd solo illustration exhibition. The opening party will take place at 7pm on 25th February. Wuji, the independent muscican, will perform at the opening party. Free to join the opening party and also we will provide free drinks.
About MOJO:
Shanghai-based illustrator Mojo has been drawing for many years. He has produced a considerable archive of work, all of which pulls inspiration from books, magazines, films, and music.[/lang_en]
[lang_cn]MOJO Wang:个人插画展《Future Lovers》
时间:2012年2月25号 - 2012年4月6号
地点:永嘉路50号,新单位
费用:免费参观
主办机构:新咖啡
场地协作:新咖啡
本次展览是MOJO个人第三次插画展,主要展出Future Lovers和Heat等新作品。开幕派对将于2月25日(周六)晚7点在新单位举行,届时会有独立音乐人吴极的精彩演出并提供免费的饮料。
关于MOJO:
MOJO Wang,插画艺术家,80后上海生人。把画画作为最大的好爱,年轻的MOJO已经创作出很多个人风十足的插画,灵感多来自于书籍、杂志、电影和音乐。谈起创意灵感,MOJO认为这是一种能激发出水到渠成绘画欲望的神奇能量。
[/lang_cn]
Registrered users for this event:
(in total 5).