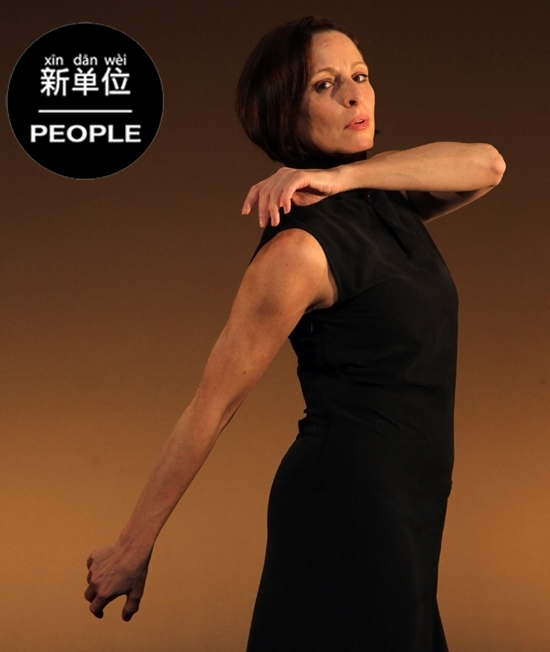 [lang_en]Interview &Translation / Alice Dong
1. Welcome to Xindanwei.com, you are the first choreographer featured in Xindanwei People! Would you mind to introduce yourself a bit?
Sure. I am a choreographer, originally from Australia but I am based in Edinburgh, Scotland. I have been working in contemporary dance internationally for 30 years in areas spanning professional, educational and community dance. I have lived and worked in several countries and over the past 4 years I have worked on several projects involving dancers from Scotland and China.
2. Can you tell us about Janis Claxton Dance the award winning contemporary dance company you are the artistic director for and what you do for it?
Janis Claxton Dance is a contemporary dance company supported on a project to project basis by various stakeholders in Scotland including Scottish Government, Creative Scotland, British Council and Confucius Institute for Scotland.
We make work for touring in small and mid scale venues and specialise in work created for unique public spaces such as zoos, museums and galleries. All of our work is research based. This involves various levels including movement, space, concept and science based research. Some of our most recent projects have been based on human/animal and mathematics/dance connections.
The company has a core team of 4 dancers including myself and we work with different artists for various projects including musicians, actors, costume, set, lighting and sound designers as well as dancers from China. We also consult with people such as zoo keepers and mathematicians as part of our research.
For the company I am the Artistic Director which involves wearing many hats and delivering at all levels of the process. On an artistic level I am involved in training (and inspiring) the dancers, igniting concepts, initiating and carry out research, directing rehearsals, choreographing the work, gathering and coordinating collaborators etc. I also am very involved with the management, publicity and production areas and work with my team to book tours, fundraise, write grants, produce publicity materials, manage budgets and deliver project reports. It is a large job remit and even though I am at the helm of it, it really involves a lot of collaboration and team work. Since being at Xindanwei I recognise a lot of parallels with the concepts of coworking, cocreation and Design Thinking. For example even though I initiate the concepts and research area, it is together with the dancers that we develop the movement material.
3. You have had an on-going relationship with Chinese dance artists and organizations and could you tell us about the experiences you had in collaborating with Chinese dancers for the Shanghai Expo, and with BeijingDance/LDTX ?
Over the past 4 years have worked with Chinese dancers on numerous occasions for projects in China and the UK. All of the experiences have been rewarding and exciting but my favorites have been when I bring dancers from the UK and China together for extended periods to cocreate together. The culture clashes and convergences inform the entire creative process and contribute to the work we make and over time we have developed layers of understandings, interpretations, misunderstandings that have been poetic, sublime, amusing, confusing and we have even developed our own Chinese/English dancers sign language!
4. As a contemporary dance practitioner what were the circumstances that lead you to coming to Xindanwei? What are your future steps?
I came to Xindanwei because I was a very lucky recipient of a fantastic fellowship called ICE (http://www.internationalcreativeentrepreneurs.com/ )This is a fellowship that identifies 5 leaders in the arts and offers us the opportunity to be placed in an organization outside of the UK for a 3 month period to work with inspiring leaders and entrepreneurs out-with of our usual filed of work and leadership. It is a fantastic to learn outside of my own field which I have been immersed in for 45 years! The fellowship offers opportunities to learn about leadership and entrepreneurship from a totally different perspective.
5. Thanks again for providing Xindanwei.com this opportunity to interview you. Any final thoughts for our readers?
I feel very privileged to be working with Liu Yan who is such an inspiring leader, initiator and creator. Xindanwei is a great space to work in and through Liu Yan's latest project Ask Lab, I am learning a lot. It's very interesting how a choreographer can fit into Xindanwei and Ask Lab! I am excited about transferring skills back into my own creative process and hopefully creating new ideas and projects from this experience.[/lang_en]
[lang_cn]采访和翻译/ Alice Dong
1.欢迎来到xindanwei.com,你是新单位采访的第一位编舞艺术家,能跟我们介绍一下你自己吗?
当然啦,我是一个来自澳大利亚的编舞艺术家,现在定居在苏格兰爱丁堡。我已经在现代舞领域里工作了近有30年了,在此期间,就像陀螺一样在专业,教育,甚至是非专业舞蹈层面里穿梭扮演着不同的角色。我曾因为工作而在多个不同的国家生活过,而过去的4年里,我也因连续的几个项目而奔波于苏格兰和中国之间。
2.作为艺术总监,能跟我们说说Janis Claxton Dance这个舞蹈团队以及你在期间所做的一些努力吗?
Janis Claxton Dance是一个现代舞蹈团队,主要是由一个又一个的项目支持着我们的公司运作,而它在苏格兰有着多个股东,其中也包括苏格兰政府,创意苏格兰,英国大使馆,苏格兰孔子学院。
我们周游在一些大大小小的场地之间,将它们变身成颇具特色的公众场所,其中包括一些动物园,博物馆,或是艺术画廊。我们所有的工作铺展都基于一些列非常严谨的前期调查。最近我们的一些项目,很多都是有关人类/动物以及数学/舞蹈艺术领域的对接。
我们公司的核心团队有四个舞蹈家,当然这其中也包括了我自己。我们通常会和一些其他领域的艺术家就很多截然不同的项目进行合作,其中涵盖了音乐家,表演家,服装师,舞台布景设计师,灯光师,音效师,当然还有一些中国的舞蹈艺术家。我们通常也会对一些人群,譬如一些动物园管理者或是数学家做些调查,以作为我们研究的一部分。
我作为艺术总监,在这个团队里扮演着多种角色,在多个层面的工作上进行协调。从艺术家的角度来说,我负责培训或者可以说启发一些舞者,点出一些概念性的东西,发起一些调查研究并贯穿执行,同时我还会指导排练,进行一些编舞工作,安排合作者之间的沟通协调等方方面面。当然,在整个公司的管理,对外的媒介宣传,以及产品工作上我也是必须亲力亲为,我会和我的团队一起来制定安排计划,融资,申请研究基金,准备对外宣传材料,规划预算,提交项目报告等。我一直都团队中规划统筹,不得不承认确实是一项很庞杂的工作。
3. 据我们所知,你一直都有在和中国的一些舞蹈艺术家甚至是组织进行一些互通合作,那么你能跟我们聊聊你在上海世博会以及2012北京现代舞双周这两个合作项目上的经验感悟吗?
过去的四年里,我曾在中国与苏格兰的无数个项目里和中国舞蹈家有过交集。所有的这些经历都是有所得的。但所有的这些,让我觉得最得心应手的便是将苏格兰和中国的舞蹈家对接进行跨领域创作。工作里的文化碰撞随着时间的磨合,我们在这其中成就了全新的交流语境。
4. 作为资深舞者,是什么机遇让你来到了新单位,在此之后,你有什么规划吗?

我来到新单位完全是ICE (http://www.internationalcreativeentrepreneurs.com/ ),它每年都会评选出艺术领域的5为杰出者,进而为他们在英国之外的优秀组织里提供3个月的交流机会。在那里,他们可以和他们自身所专注的领域之外的一些极富灵感的企业家一起工作,获得启发。
5. 感谢你给xindanwei.com这个采访机会,在最后,有什么别的要跟我们的读者说的吗?
能和刘妍这样集聚领导力的创意人,策展人工作我感到非常荣幸,新单位是个很棒的办公地,通过跟进刘妍现在的这个问工作室项目,我受益良多。其实,想在想想真的是很不可思议:一个舞者是怎么能在新单位还有问工作室中有所参与!我有点迫不及待地想要将我在这里的所学所见带回到我原有的创作里,并有所突破![/lang_cn]