bookable event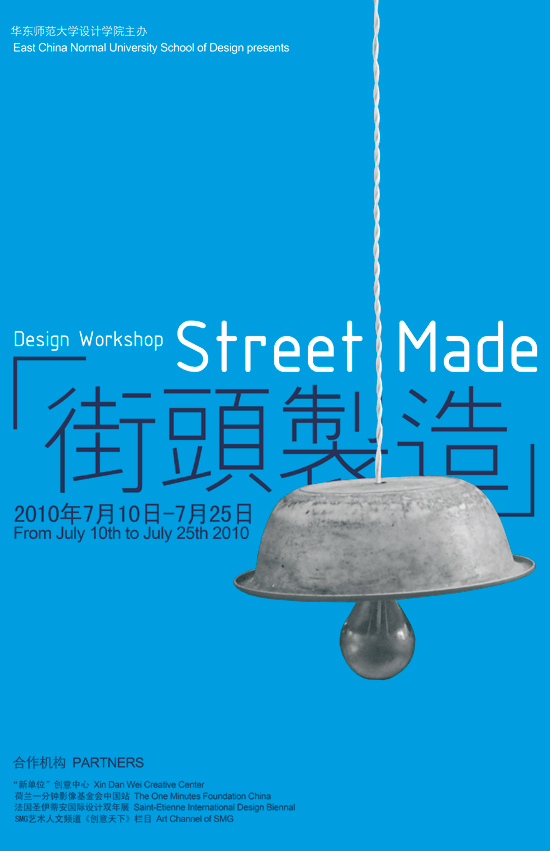 Street Made Design Workshop
GLOBAL DESIGN CONFERENCE : SHANGHAI NOW!
Time: Saturday, July 10th, 2 – 5 pm
ORGANIZER
East China Normal University School of Design
3663 Zhonghshan bei lu
200062 Shanghai, China
Creative Director / Jennifer Rudkin
Responsible China Project / Jiang Hongqing
PARTNERS
Xin Dan Wei Creative Center
The One Minutes Foundation  China
Saint-Etienne International Design Biennal
Art Channel of SMG
Shanghai, China
Active pioneers of the Chinese creative scene will present their work and vision of Shanghai today. Shanghai is a vibrant city in constant movement and seeking for its own identity through the work of its creative people who want to make a change.
The Purpose of this gathering is to illustrate and confront different contemporary points of view on the constantly moving city of Shanghai. The conference will address the question of how to express a personal feeling and understanding of the world around us, through a chosen media, be it an object, a video or a sentence. The intention is also to undertake contemporary problems inspired by the slogan: "Better City, Better Life", such as ecology, are cities compatible with natural systems? Or, cultural heritage, how can we preserve our specificities?
The conference target will be the general public, more specifically, the students participating in the STREET MADE Design Workshop.
Please find here with the detailed explanation of the Workshop.
Speakers
Introduction by Jennifer and Hongqing
Wang Rihua – General Secretary of the Shanghai Industrial Design Association – www.sida.org.cn
General speach on the status of Product Design in China today and more specifically in Shanghai.
Zoe Zhang Bing – Contemporary Art Curator – zoezhangbing.com
A wide view on Creativity in China today and more specifically Shanghai, through the theme of the Double Act exhibit.
Qiu Anxiong – Video and Animation Artist – www.qiuanxiong.com
Presentation of chosen works to illustrate 1. The tools that you can play with to create a video story 2. How to keep chinese traditions alive by reinterpreting them in a personal way.
Pan Jianfeng – Graphic Designer – www.shtype.org ; http://blog.sina.com.cn/pjfdesign
Presentation of chosen works exploring Shanghai people
Ding Wei – Industrial Design – www.mooma.com
Presentation of chosen works
Wei Shaonong – Dean of ECNU School of Design
Conclusion
01. INTRODUCTION
Some say «Shanghai is not China». Some say Shanghai is the city of the future.
Shanghai is a contemporary city, a city in perpetual movement, building up and out day and night. The population, the architecture, the cuisine, illustrate the superimposition and accumulation of past and present influences.
Shanghai is a mix between ancient and new, between skyscrapers and traditional houses, between cars and bicycles. The city is filled with contrasts which provoke both a charming and uncomfortable feeling, projecting its beauty and strength.
The population of Shanghai takes over the streets and fills them with sounds, movements and objects. Some people work in the streets to earn money. To live, people develop their own tools, they develop street design, design to survive. They make their everyday life objects to cook, cut, sew, transport. Hybrid objects are exhibited in the streets, accumulated, stacked, assembled with function as only concern.
02.CONTENT
Shanghaï street made aims to show the city today: a precarious equilibrium, by putting forward the contrasts which create the energy and the unique atmosphere of this vibrant city.
The work focuses on four main aspects:
- INSPIRATIONAL RESSOURCE FOR CREATIVITY in all artistic fields. The goal of this project is to create applications, which witness our time through the analysis of systems created by the language of Shanghai street furniture.
- HISTORICAL APPROACH since its goal is to show today's era, to freeze a moment of history in continuous change.
- ECOLOGICAL APPROACH since the players themselves apply a process involving material recuperation and recycling.
- SOCIAL APPROACH as we observe the skills developed by the people in need in order to complete their everyday actions: earn money, eat, clean…
03. CALENDAR
WEEK ONE
DAY 1 GLOBAL DESIGN CONFERENCE : SHANGHAI NOW! (open to public for free)
Saturday, July 10th
2 – 5 pm @ Xin Dan Wei
DAY 2 « STREET MADE » WORKSHOP OPENING (not open)
Workshop Presentation + Lesson on how to develop a concept
Sunday, July 11th
9 – 12 am 1 – 4 pm  @ Xin Dan Wei
DAY 3 + 4 FIELD WORK (not open)
Research, Observation, Develop idea
Monday, July 12th and Tuesday, July 13th
@ ECNU Design School and in the city
DAY 5 1st CONCEPT PRESENTATION (not open)
Crit 1 with professional designers and artists
Wednesday, July 14th
9 – 12 am @ Xin Dan Wei
DAY 6 + 7 FIELD WORK + CONCEPT DEVELOPMENT (not open)
Thursday, July 15th and Friday, July 16th
@ ECNU Design School and in the city
WEEK TWO
DAY 8 2nd CONCEPT PRESENTATION (not open)
Crit 2 with professional designers and artists
Saturday, July 17th
9 – 12 am @ Xin Dan Wei
DAY 9 to 13 PROTOTYPE + ONE TO ONE MEETINGS(not open)
Sunday, July 18th to Thursday, July 22nd
@ ECNU Design School Studio and in the city
DAY 14 PROTOTYPE PRESENTATION (not open)
Friday, July 23rd
9 – 12 am @ ECNU Design School Studio
DAY 15 FINALIZE PROTOTYPE CONSTRUCTION(not open)
Saturday, July 24th
@ ECNU Design School Studio
DAY 16 PRESENTATION OF FINAL OBJECTS (open to public)
Sunday, July 25th
9 – 12 am @ Xin Dan Wei
Registrered users for this event:
(in total 28).