bookable event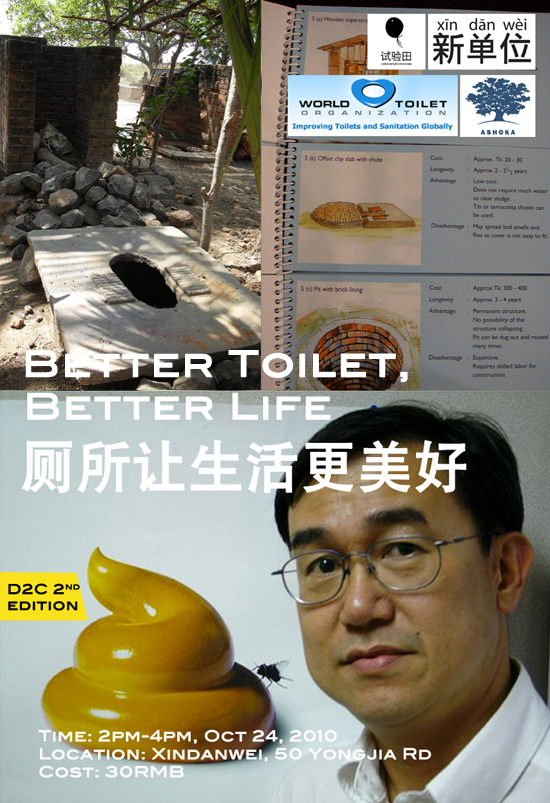 Design2Change – Second Edition
Better Toilet, Better Life
Speaker: Jack Sim, founder of World Toilet Organization (WTO) and the World Toilet College (WTC), Ashoka Fellow
Curated and Hosted by Xindanwei
Supported by ASHOKA
Time: 2pm-4pm, Oct 24, 2010
Location: Xindanwei, 50 Yongjia Rd
Cost: 30RMB(including coffee, tea and snacks), free of charge for Xindanwei monthly and yearly member
Language: English (Chinese translation provided for Q&A session)
Important Notice:
-This is a reservation only event, seats are limited to the first 40 people who are registered at the event page of Xindanwei website.
- Transportation: We highly recommend you to take public transportation instead of driving, for we are conveniently located next to Metro line 1, 10(Shaanxi Rd South Stop) and Metro 9 (Jiashan Rd stop) as well as bus line 96, 104, 911, 167,42,920,926,128,146,24
About the Event
We believe that change happens when we design better, together. Design2Change is a platform to make that collaborative change happen. It is to connect people who want to explore ways that design and technology can positively impact our communities – ways that are thoughtful, informed, creative and responsible. Our mission is to bridge designer and technologist communities with social entrepreneurs by providing an open ground for collaborative innovation.
In the second event of "Design2Change" series, Xindanwei brings to you the leading Asian social entrepreneur, the Hero of the Environment for 2008 by Time Magazine, Ashoka Fellow Jack Sim from Singapore.
Jack is a wonderful speaker and his work is highly inspiring. In 2001,after a successful career in the construction industry, Jack started asking himself probing questions. Couldn't he be doing more for society? At that time, public debate over the cleanliness of Singapore's toilets was daily news, and Jack found his calling in the improvement of sanitation worldwide. Globally, about 2.6 billion people still live without access to improved sanitation, leading to the deaths of nearly 6,000 children every day. To tackle this problem, Jack founded a pair of global initiatives, the World Toilet Organization (WTO) and the World Toilet College (WTC) to provide sanitation for everyone.
The World Toilet Organization (www.worldtoilet.org) is a membership organization of citizen groups, academia, and government agencies around the world whose work proves that progress on sanitation is possible. With 130 members in 51 countries (6 in China), WTO aligns citizen groups, budgets, and government agendas to underscore the urgency of proper sanitation, decouple sanitation and water for the purposes of funding, and direct earmarked funds to citizen sector and public-private partnerships.
On this trip to China, Jack hopes to share his experience of improving sanitation around the world, as well as find potential partners to further WTO's work in China— where 650 million, approximately half of total population, still lack access to clean sanitation.
Jack Sim is supported by Ashoka, the global association of the world's leading social entrepreneurs. Ashoka aims to identify similar entrepreneurs in China whose goal is to be of service to society, and provide them support to make their plans a reality. To do this Ashoka needs to develop a wide network of supporters. Ashoka's ultimate vision is to create a world where every individual has the freedom, confidence and societal support to address social problems and drive change. More about Ashoka, please visit: www.ashoka.org
About Jack
Jack Sim was born in 1957 in Singapore. His life is a rags-to-riches tale with a surprising twist. When Jack was young, he did not do particularly well in school. He lacked the attention span and were too playful for the classroom. Following in the footsteps of his entrepreneurial mother, Jack later developed his own successful construction business, and credits his business success to the need to devise creative solutions. In 2001, when Jack had enough money in the bank to retire, his "real" life began. Jack followed his motto 'Live A Useful Life', and started asking himself probing questions. Couldn't he be doing more for society, finding a more beneficial outlet for his creativity and rebellious nature? At that time, public debate over the cleanliness of Singapore's toilets was daily news. That was when he found his calling, a calling which in time led to his being awarded the Schwab Foundation Social Entrepreneur of the Year in 2001, and elected as an Ashoka Global Fellow in 2007.
To learn more about Jack and his work, please see the attached English and Chinese profiles. Alternatively, you can also have a look at these videos:
http://www.tudou.com/programs/view/tVg2RaRk40w/
(An interview Jack did with Bloomberg TV about world toilet day 2009)
http://www.tudou.com/programs/view/FVX2uzIFgLo/
(An interview with Jack at Ashoka's Tech4Society meeting, February 2010)

Registrered users for this event:
(in total 16).