bookable event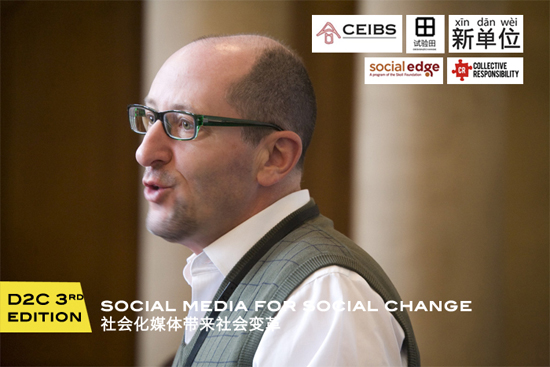 Design2Change-Third Edition
: Social media for social change
Speaker: Victor d'Allant
Time: 6:00pm, Nov 10th, 2010
Location: AC3-105, CEIBS campus, 699 Hongfeng Road, Pudong
Cost: free (please send your name, title and organization to xindanwei@gmail.com before Tuesday 9 Nov so that we can arrange a pass for you to get into the CEIBS campus)
Victor d' Allant, Executive Director of Social Edge @ Skoll Foundation is going to give his presentation, Social Media for Social Change, as the third edition of Design 2 Change, in CEIBS.
We believe that change happens when we design better, together. Design2Change is a platform to make that collaborative change happen. It is to connect people who want to explore ways that design and technology can positively impact our communities – ways that are thoughtful, informed, creative and responsible. Our mission is to bridge designer and technologist communities with social entrepreneurs by providing an open ground for collaborative innovation.
In the third edition, we introduce you to Victor d'Allant, the executive director of Social edge, a program of SKOLL foundation. His bio can be found at http://www.socialedge.org/about-us/social-edge-team His talk covers how they use social media to deliver social change, taking the example of Social Edge and how it has been contributing to building the field of social entrepreneurship. He was invited several times to speak at Stanford, Berkeley, NYU and his presentation has been well received.
This event is realized with the support of CSR club of China Europe International Business School and Collective Responsibility (http://www.collectiveresponsibility.org/)
Registrered users for this event:
(in total 9).