Recruitment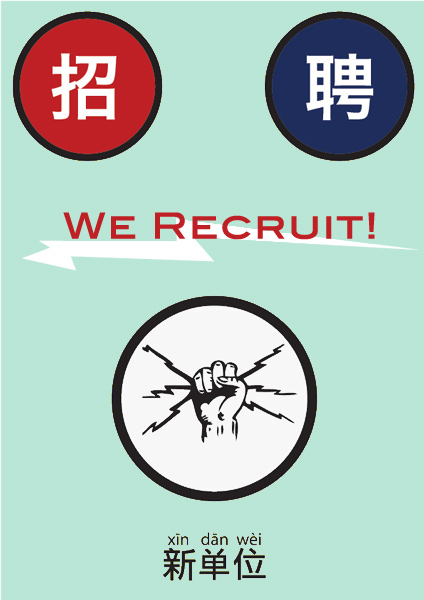 Please send your CV to xindanwei@gmail.com
+ Space Coordinator(full time)
We're looking for a space coordinator who will be taking care of Xindanwei Yongjia Rd 50 storefront from Mon – Fri 9:30am-6:30pm. We're looking for someone who loves to be a part of the creative and geeky community.
Duties may include (but are not limited to):
1. Maintain and manage the space booking of Xindanwei storefront at 50 Yongjia Rd.
2. Membership management offline and online ((such as managing any issues that pop up, provide instant feedback to community members,giving tours of the space, answering questions, etc.).
3. Helping with the marketing communication online & offline
4. Daily reception and secretary work for Xindanwei spaces.
Our Ideal Candidate Will:
1. Well versed with Office & CRM softwares, familiar with SNS
2. An easy going personality, fluent spoken English and ability to write in English and Chinese
3. Enthusiastic positive attitude, yet disciplined and detailed-oriented
4. A team work attitude and willing to learn, love art, culture and creativity.
Salary needs to be discussed during interview, social welfare provided.
+  Community Manager (full time)
We're looking for a Community Manager who will use online and offline avenues to reach out to people to get them to know about Xindanwei. We're looking for someone who lives and breathes online as well as a member of the creative and tech community.
Duties may include (but are not limited to):
Supervision on membership management
Responsible for member recruitment and event space promotion
Assist with community building strategy development & implementation
Create and publish marketing content for Xindanwei space/events/communication/etc, responsible for copywriting.
Marketing, promotion and attending Shanghai "creative", "Social"and "geek" events
Social media participation (weibo, Facebook, Twitter, Flickr, etc.)
Our Ideal Candidate Will:
Be passionate about building a community and be an independent worker with existing business/clients.
Be entirely self-motivated. Your daily tasks will include shaping the direction of our social media strategy and to share, connect, and learn from others. It's up to you to make the most out of the freedom given to you.
Be part of the Shanghai "creative"and "geek" scene.
Have experience with WordPress, weibo, Twitter and Facebook.
Ability to spread the Xindanwei and coworking story to target groups.
Complement the Xindanwei founders and existing members.
Ability to write and speak both in nearly perfect English and Chinese
Have the freedom to work anywhere desired.
Salary needs to be discussed during interview, social welfare provided.
Should be any interest to you, please email us your motivation letter and CV: http://xindanwei.com/lang/en/service/about/
To learn more about Xindanwei, please visit our website: http://xindanwei.com
In your cover letter, please explain why the job interested in and why you are the best candidate for this work.