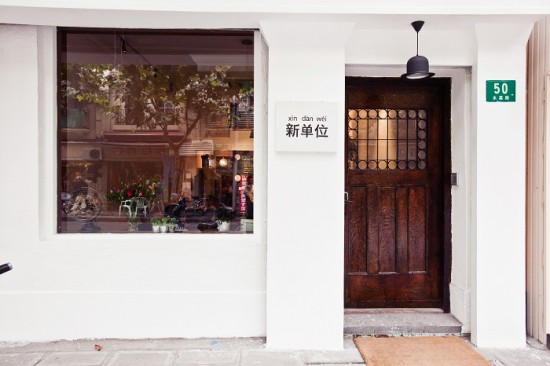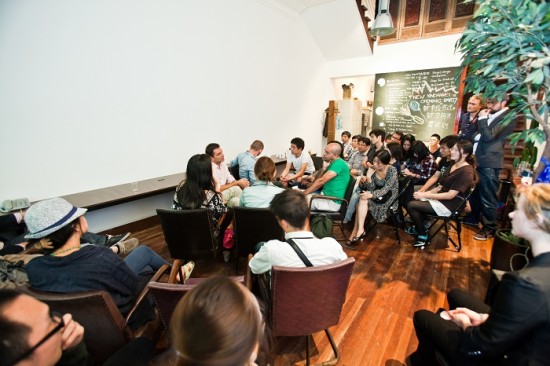 [lang_en]Xindanwei on Yongjia Rd is the heart of the Xindanwei workspace network. Located in the trendy formal French Concession area, it is an amazingly decorated 6-storey lane house from the 1930's, with antique art deco furniture, rustic wooden floors, ceiling beams & a roof terrace. It provides professional services such as an open office, private conference rooms, a high-speed and secure wifi connection, vpn, printing and copying.
As "the center of Shanghai's burgeoning technology and art community", what makes Xindanwei unique among all the co-working spaces around the world is how it's grown so quickly into a central hub of manifold disciplines, not just design, not just technology, not just art. Here you will find a built-in network of creative professionals and entrepreneurs in design, writing, architecture, the visual arts, and more. It's done this by improving the facilities of the space and ensuring the right mix of people and events.
Moreover, Xin Cafe on the ground floor may be one of the coolest cafes in town with a large exhibition wall for the uprising and non mainstream artist and designers in town. Xin Cafe brews fresh coffee out of Vac Pot, an absolute mechanical method that has been around since the consumption of coffee. It is one of the most fascinating ways to make coffee yet one of the best tasting cups you might ever have.
Simply put, Xindanwei on Yongjia Rd now not only calls for dead-smart workers but a place that any hardcore coffee drinkers cannot afford to miss.

Booking Meeting Room #1 #2floor
¥20/hour/person, with projector
Boardroom seating layout for up to 12 people

Rent Event Space
Can be rented per half day or entire day, 10% discount for evening after 6:30pm and weekend
Open space, cater for up to 50 guests
Chairs, tea, water, beamer and audio equipment provided
[/lang_en]
[lang_cn]新单位(永嘉路)位于永嘉路上的新单位是新单位空间网络的心脏。她的建筑是一栋上海前法租界中心地带的三十年代美丽老房子,空间的内饰全部采用优雅的art deco风格,各个楼层不同的办公环境开放、舒适,除了可以享受高速安全的 无线上网,VPN和专业打印复印服务,并可使用会议室与屋顶花园。
新单位不同于国际上任何一个联合办公空间,她曾被国际艺术界称为上海真正的"新媒体艺术中心"。除了为设计师,创业者,艺术家和极客们提供办公会议环境,各种各样的国内外知名创意人和大牛们也在这里聚会交流,聊天思考,除了举办展览,讲座和工作坊,也和工作在这里的人们打成一片。
现在,新单位不仅仅集合了聪明的工作者,也开始吸引铁杆咖啡迷: 位于底楼的新咖啡可能已经成为了上海最值得一去的咖啡馆之一。这里除了定期为年轻并且才华横溢的艺术家和设计师举办展览,而且像化学实验一样的使用真空虹吸壶纯手工制作咖啡,其制作过程绝对值得观看!

预定会议室 #1 #2楼
20元/小时/人,含投影仪使用
长桌式12人会议

租赁活动空间
可按半天或全天租赁,平时6点半之后和周末可享受九折优惠
开放式空间,可容纳50人
可提供椅子,茶水,投影和音响设备
[/lang_cn]