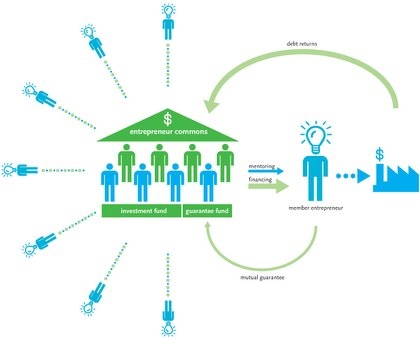 [lang_en]
Entrepreneur Commons launch @xindanwei
Time: 2:00pm Sunday June, 20th
This is an Invitation Only Event, please send your name, title, contact information and introduction of your organization to xindanwei@gmail.com if you wish to receive the invitation. We will contact you shortly to confirm your participation.
What is Entrepreneur Commons @xindanwei:
Entrepreneur Commons @xindanwei is the China Chapter of Entrepreneur Commons (http://www.entreco.org), a not-for-profit program to help entrepreneurs find advice, mentoring, share resources and have opportunities to raise funding.
It includes several components:
- an international peer-support program, with chapters currently in 11 cities: San Francisco (5 chapters), Menlo Park, Oakland (CA), Palo Alto, New York, Miami, Chicago, Paris (2 chapters), Madrid, Shanghai, Seoul.
- a global peer-learning platform http://entreco.supercoolschool.com.
- moving forward, entrepreneurs will also have access to financial partners, including a fund (currently being raised) with a focus on debt financing rather than equity financing.
What is the format of the meeting?
The program consist of monthly closed-group meetings (5 to 10 entrepreneurs per group) where entrepreneurs can share successes and challenges, so that all can benefit from good news and all can contribute to resolve issues.
It also includes regular (semi-annual) open forums (Social Innovation China) with an extended group of partners from the entrepreneurial ecosystem, as well as regular adhoc classes provided through the online peer-learning platform.
There is no dollar cost for attending, the real cost of the meetings is the opportunity cost of the time attendees invest. The meeting format and schedule is designed to foster deep relationships and comraderie inside the groups, which will foster openness, collaboration, and sustainable support structures over time. Participants will gain proportionally and directly from the time they invest.
Where we are today:
There are today approximately 200 entrepreneurs spread over 15 chapters in 11 cities, and we will be expanding further in Asia, (Shanghai, Bangalore) in Europe (Barcelona, Athens, Edinburgh), and new cities in the US.
What you get beyond the local meetings:
- Access to the EntrepreneurU training program, for more intensive learning and knowledge sharing
- As a social entrepreneur, you may apply for workspace funding provided by Social Innovation Center of China YouChange Social Entrepreneur Foundation to start your office among Xindanwei coworking community.
- Access to Angelsoft Deal management, which allows us to establish a pipeline that can be accessed by financial partners and that will be used to disperse money once the Entrepreneur Commons fund(s) have been established. Our funding model and goal is to establish several regional funds rather than one large fund, because investment is local business.
[/lang_en]
[lang_cn]
创业共享@新单位
时间:6月20日下午2点
此活动凭邀请函参加,如果您希望收到邀请,请将您的名字,职位,联系方式和您所在的组织简介发给
xindanwei@gmail.com 我们将和您取得联系。
创业共享@新单位是什么?
创业共享@新单位是"创业共享"(Entrepreneur Commons) http://www.entreco.org在中国的落地项目,是一个为早期社会企业家提供顾问,资源共享机会和资金募集的非赢利项目.它具有以下特点:
- 它是一个全球社会企业家的网络, 在全球11个城市都有落地项目: 旧金山(5个), 门洛帕克, 奥克兰, 帕洛阿尔托, 纽约, 迈阿密, 芝加哥, 巴黎(2个),马德里,上海,首尔 – 它是一个全球社会企业家的同伴式学习平台 http://entreco.supercoolschool.com
- 社会企业家可以接触到全球和本地的投资合作伙伴, 拓展债务融资而不是股权融资的资金募集渠道。
创业共享@新单位的形式是什么样的?
这个项目包括月度的私密型小组讨论(每组5到10个企业家), 企业家能在其中分享彼此的机遇和挑战, 在分享自己的成功案例的同时,为彼此面临的问题提出自己的解决方案.
同时,此项目每半年将邀请来自社会企业生态系统的合作伙伴一起举办大 型开放式峰会"社会创新中国", 并通过在线同伴式学习平台http://entreco.supercoolschool.com与" 新学院"开展临时的课程。
创业共享@新单位针对经过挑选的小型社会企业和早起创业者,参加无需 任何费用, 会议的真正费用就是时间, 这是创业期企业家做出的真正承诺,也是他们是从会议中获取价值的唯一 方式. 因为在第一次会议中被分享的东西和在六个月后有一定实践规模后的再被分享时已经有了本质的区别. 你对这个项目的投入会直接决定你从这个过程中获取的价值.
今天我们在哪里?
正如之前提到过的一样, 今天有超过200个社会企业家在全球11个城市开启了15个落地项目. 我们现在也在与几个组织一起在亚洲(上海,班加罗尔) 和欧洲(巴塞罗那, 雅典, 爱丁堡) 以及在美国的一些新的城市建立新的落地项目和合作伙伴关系.
在创业共享@新单位你还能得到什么?
-参加"新学院"培训,更系统深入地学习创业知识和技能,并进行更高层 次的知识分享。
-社会企业家还会有机会申请友成企业家扶贫基金会社会创新支持中心在新单位的"工作空间"支持基金,成为新单位联合办公社区的一份子。
- 在全球范围,你将有机会进入Angelsoft交易管理系统, 在"创业共享基金"建立之后,允许我们的全世界各地的金融合作伙伴通过这个渠道投资当地企业.
[/lang_cn]