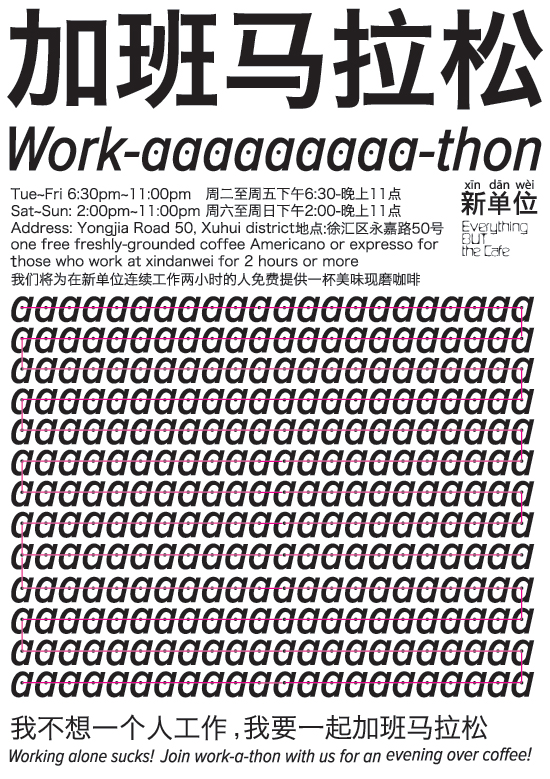 [lang_en]
Need a space to take care of some emails after dinner or want to finish that head-aching report before the deadline? At the last minute with your essay submission or simply fancy a cosy atmosphere to write your blogs? It is a beautiful evening, working alone sucks! Join work-a-thon with us for an evening over coffee!

Time:Tue-Fri 6:30pm-11pm Sat-Sun 2pm-11pm
Cost: 15rmb/hour/person
one free freshly-grounded coffee American or espresso for those who work at xindanwei for 2 hours or more
*@ground floor,xindanwei, Yongjia road 50, Xuhui district
*Please check for our event announcements, as events held on the weekend or in the evening may influence work-a-thon time.
[/lang_en]
[lang_cn]
晚饭后找个地方加班?找个地方把那个叫人头疼的报告写完?找个地方赶作业?找个地方写写博客?夜晚太美好,我不想一个人工作,我要一起加班马拉松!
时间:星期二-星期五:下午6点30到晚上11点
周六-周日:下午2点到晚上11点
费用:15元/人/小时
我们将为在以上时段在新单位连续工作2小时的人免费提供一杯美味的现磨咖啡(美式或浓缩)。
*开放区域:徐汇区永嘉路50号, 新单位一楼大厅
*活动包场除外,请具体留意我们的邮件通知。
[/lang_cn]