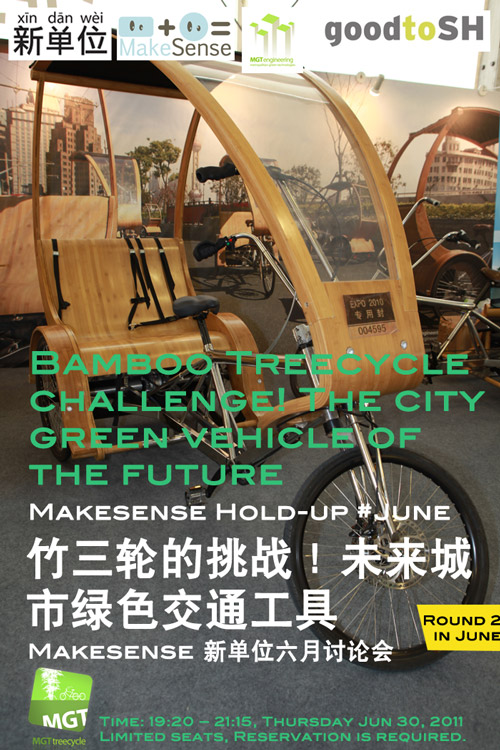 [lang_en]Bamboo Treecycle Challenge! The city green vehicle of the future
Time: 30th June , 2011  7:20 – 9:15 PM
Venue: Xin Dan Wei – Yongjia Road 50, Xuhui District, Shanghai, CHINA
Organizer: MakeSense.org, MGT Engineering
Another MakeSense Hold-up at Xindanwei in June! This time we are trying to solve the challenge of MGT Engineering, creator of the city green vehicle of the future!
The number of participants is limited to 10, so don't forget to reserve with us!
WHO IS THE ENTREPRENEUR YOU WILL BE ABLE TO MEET?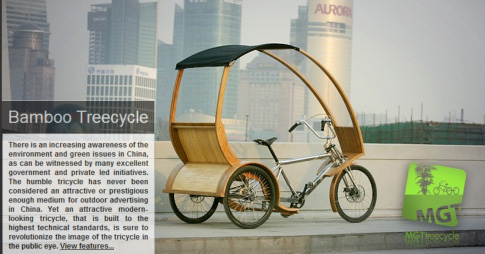 ABOUT THE EVENT:
After 3 successful workshops organized at XinDanWei with over-motivated participants, we would like to invite you to a new creative workshop using original means to get the best ideas out of you!
This time, the challenge for you will be to imagine how MGT Engineering invention could become the vehicle of the future in your city!
Don't worry, we will not let you do it alone : we will be there with some cool methods to help you find the best ideas.
Indeed, this new kind of creative workshops will be hold in a friendly atmosphere with 10 other fellows (just like you!) with who you will have the occasion to experience among others:
- "Brainstorming" Session
- Videoprototyping
So if you are interested in green transportation means, like to ride your bike or just want to meet an innovative entrepreneur, we hope you will definitely join because if it's the case, we can already bet some of you will like to share their creations with their friends after the event !!
AGENDA:
The creativity workshop will be organized as follow :
- 3 minutes : Presentation of Bamboo Treecycle
- 5 minutes : Explanation of the challenge / organization of the session
- 30 minutes : Brainstorm – foolish ideas !
- 10 minutes : Break
- 30 minutes : Brainstorm – concepts videoprototyping !
- 30 min : Concepts Trial
- 5 minutes : volunteering interviews
The workshop will be animated in English and Chinese by 2 cool Makesense members.[/lang_en]
[lang_cn]竹三轮的挑战!未来城市绿色交通工具
时间:2011年6月30日,7:20 – 9:15 PM
地点:新单位 – 上海市徐汇区永嘉路50号
组织方: MakeSense.org, MGT Engineering
MakeSense团伙六月份在新单位的第二次讨论会!这一次,我们打算试着解决MGT Engineering带来的挑战,他们立志成为未来城市绿色交通工具的创造者!
讨论会参与人数将限制在不超过十人,所以请不要忘记提前和我们预约!
这次讨论会中我们将认识的创业组织: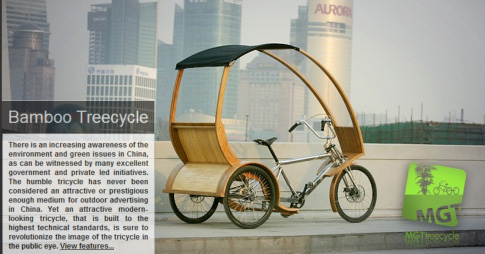 关于活动:
我们在新单位已经成功举办了三期研讨会,而且获得了大家的积极参与。现在我们准备进行这个主题的第二期活动,尝试在Makesense团队原创性的主持风格的带领下,发动再一次脑力风暴,把大家的新鲜想法都激发出来!
这一次,我们看看MFT Engineering的新发明是否可以成为这个城市未来的交通工具!Don't worry, we will not let you do it alone : we will be there with some cool methods to help you find the best ideas.
不用担心,你不需要一个人苦思这些事情:我们会使用一些很酷的方法引导大家产生最好的想法。
Makesense主持的研讨会将会在一个友好放松的环境下进行,届时您将和其他十个左右像您一样的与会者一起体验:
- 分组开放想法讨论环节
- 视觉引导的草案行成环节
我们希望你加入到这个活动中来。很有可能假如你来了的话,活动结束后你已经开始热烈地和你的朋友讨论起这些创意来了!
讨论会进程:
- 三分钟:介绍竹三轮
- 五分钟:介绍当期的挑战和组织机构
- 三十分钟:脑力激荡 – 最异想天开的想法都提出来 !
- 十分钟:冷静
- 三十分钟:脑力激荡 – 在图形草案的引导下概念成型 !
- 三十分钟:概念草案展示
- 五分钟:自由讨论、问答时间
诊断会将在2位Makesense团队的主持下用中英文双语进行。
[/lang_cn]