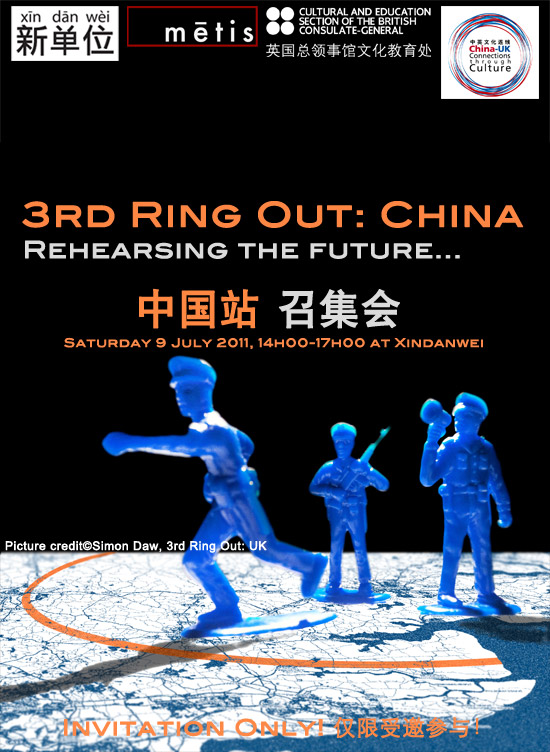 [lang_en]3rd Ring Out: China
A talk and discussion at Xindanwei featuring UK artists Zoë Svendsen and Simon Daw, Co-Directors of 3rd Ring Out – an innovative project which uses art to explore climate change
Time: Saturday 9 July 2011, 14h00-17h00
Venue: Xindanwei, 50 Yongjia Rd., Shanghai
Language: English & Chinese
Cost: FREE and invitation only – with fresh coffee, tea, fruit and snacks provided
Organizers: 3rd Ring Out, Metis Arts, British Council China, Connections through Culture, Xindanwei
Are you an artist? Are you interested in climate change?
Zoë Svendsen and Simon Daw are UK artists and co-directors of 3rd Ring Out.  This unusual and innovative multi-media performance and installation toured the UK in 2010 and 2011, engaging with audiences to enable them to make decisions on how to respond to scenarios of a climate-changed future in 2033.
In partnership with Xindanwei, Zoë and Simon want to invite artists, environmentalists, climate scientists and people working at the intersection of these disciplines to an event which looks at the way in which art can address, explore and mediate questions triggered by climate change.
Please 'save the date' and join Zoë and Simon at Xindanwei on 9 July to hear more about 3rd Ring Out, and to share ideas and views on the relationship between art and climate change in China.
Schedule:
The event will use 'open space' methods to encourage self-directed group discussion, normally three or four groups. Time will be allowed for each of the groups to feed back towards the end of the afternoon.
Important: This is an invitation only event.
Zoë and Simon are keen to meet a broad cross section of people who have an insight into:
· Climate impacts in China – and their impacts on cities/urban living
· Planning issues around adaptation and change
· The cultural perception of climate change in China
· Emergency planning
We are also keen to meet artists and potential collaborators across the following disciplines, who might be interested in working on a Chinese version of 3rd Ring Out in 2012 as part of British Council China's UK Now Festival:
· Writers
· Sound artists (composers and/or with experience of computer sound design)
· Video designers
· Interactive computer media creators
· Performers/live artists (especially if they also have one of the above skills and/or make their own work)

The focus of the event is on researching climate science and climate change. If you are interested by the subject and can connect with and contribute to some of the ideas behind 3rd Ring Out, please send an invitation request to us by calling 021-34280783 within office hours (9h30 – 18h00) or by sending an email to xindanwei@gmail.com with the following information provided:
- Your full name
- Your occupation and specialized area
- Which company or organization do you work for?
- You email address
- Your mobile number (Optional)
Thank you for your collaboration!
About 3rd Ring Out: China
3rd Ring Out: China is being developed by Metis Arts in partnership with British Council China. Zoë Svendsen and Simon Daw's visit to China in July 2011 has been supported by a Connections through Culture Development Grant.
Check out event pictures on Flickr!
http://www.flickr.com/groups/xindanwei/pool/
[/lang_en]
[lang_cn]3rd Ring Out: 中国站
3rd Ring Out 是一个关于通过艺术探索气候变化的创意项目,作为项目的联合总监,英国艺术家 Zoë Svendsen 和 Simon Daw 现在把3rd Ring Out 带到了中国,由他们主持的3rd Ring Out:中国站的讨论会就在新单位进行。
时间:2011年七月九日,星期六,14h00-17h00
地点: 上海市永嘉路50号,新单位
语言:英语
费用:免费,且需凭邀请出席;现场提供现磨咖啡、茶水、水果和小食
组织方: 3rd Ring Out, Metis Arts, 英国大使馆文化教育处, Connections through Culture, 新单位
如果你是艺术家,如果你关注气候变化…
3rd Ring Out 是一个不同寻常的创新多媒体艺术表演和装置,2010年和2011年首先在英国作了巡回演出,演出利用多媒体和多角度情景搭建向观众提出严肃的道德问题──我们如何回应将发生在未来2033年的气候变化?英国艺术家Zoë Svendsen 和 Simon Daw是3rd Ring Out的项目总监。
现在,Zoë 和 Simon 与新单位合作,邀请艺术家、环保积极分子、气候科学家和相关领域的其他从业人员在新单位举行聚会,讨论艺术如何得以提出、探索和调解由气候变化带来的问题。
七月九日,请您到新单位了解更多关于 3rd Ring Out ,讨论在中国范围内艺术和气候变化之间的关系,与大家分享您的想法和观点。
活动安排:
活动将采取"开放空间"的组织方式以鼓励参与人群自主发生小组讨论,现场将分化三到四个小组。活动最后将对各个小组的讨论结果和观点进行汇总和反馈。
重要提醒:此活动需凭邀请出席。
活动希望邀请到积极参与或深入了解以下领域的人士:
· 气候影响在中国 – 以及气候变化对城市生活的影响
· 和气候变化和适应密切相关的城建规划
· 文化视角观察中国的气候变化
· 紧急事件应对计划
我们同样希望邀请到以下领域的艺术家和潜在参与者,一起参与创建中国版的3rd Ring Out,这个活动同时将是英国驻中国大使馆文化教育处主办的UK Now文化节的一部分:
· 作家
· 声音艺术家 (作曲家 和/或者 电子声音设计经验者)
· 视频艺术家
· 互动计算机媒体创作者
· 表演艺术家 (特别是如果同时使用以上某种或多种技能完成作品)
活动的焦点是研究气候科学和气候变化。如果你对这个主题感兴趣,可以参与或者可以为项目的搭建提供建议和帮助,请发送申请到 xindanwei@gmail.com 也可以直接在工作日9h30-18h00打电话到021-34280783,我们的工作人员会要求您提供以下信息:
- 您的全名
- 您的职业和专业领域
- 您的工作单位
- 您的电子邮件地址
- 您的手机号码(可选)
感谢您的合作!
关于 3rd Ring Out: 中国站
3rd Ring Out: 中国站 由 Metis Arts主办,英国驻中国使馆文化协办。Zoë Svendsen 和 Simon Daw's 2011年7月的中国之行受到Connections through Culture Development的资金支持。
在Flickr上查看活动现场照片!
http://www.flickr.com/groups/xindanwei/pool/
[/lang_cn]