bookable event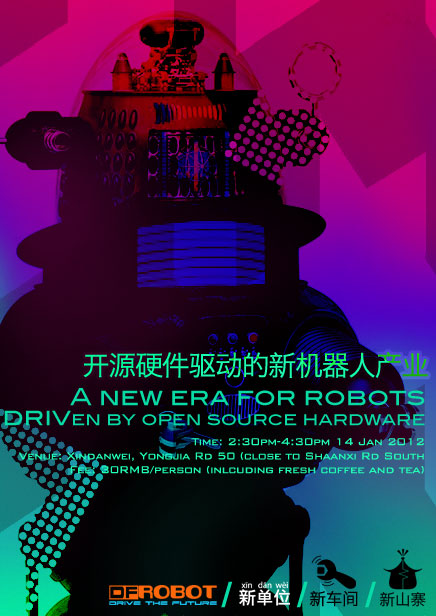 [lang_en]
"Xinshanzhai 3: A New Era for Robots Driven By Open Source Hardwrae"
Hosted by: Xindanwei and Xinchejian
Speaker: Dr. Ricky Ye of DFRRobot
Time: 2:30pm-4:30pm 14 Jan 2012
Venue: Xindanwei, Yongjia Rd 50 (close to Shaanxi Rd South)
Fee: 30RMB/person (inlcuding fresh coffee and tea)
Xindanwei and XinCheJian have ran a few Xinshanzhai talks to discuss the open source hardware and open source innovation. We have done two with SeeedStudio and IDEO about a year ago. We are looking to restart this series of talk with DFRobot kicking off the talk again. We have invited the founder of DFRRobot about his experience about how DFRobot gets started, how he get into Arduino/HCR and how open source hardware has help his business.
About DFRobot:
DFRobot was founded on 2007 in Beijing, China. DFRobot is a professional robot technology developer, especially in open source hardware, mobile robot platform, robot sensors. Their first product is the URM37 V3.2 ultrasonic sensor which is now becoming a really popular distance sensor in robotics market. They are now the biggest robotics online shop in China.
They are very active in open-source hardware community such as Arduino. Besides that they are the official Arduino distributor in China, they also had their own brand "DFRduino" which provides the same features but lower cost.  DFRduino has a  whole range of shields and sensors that can match most education, prototyping, DIY projects and research purpose.
About Dr. Ricky Ye:
CEO & Co-founder of DFRobot. Received his Ph.D. from Nottingham University (UK) in 2007. Involved in several EU core projects as researcher and project manager afterwards. At 2008, he launched an open source robot project called "HCR", and joined the DFRobot in 2009. He is now focusing on the development of domestic robotics, AI technology and open source hardware.
[/lang_en]
[lang_cn]
" 新山寨第三期:开源硬件驱动的新机器人产业 "
主办:新单位、新车间
主讲人:DFRobot 叶琛博士
时间:2012年1月14日下午2:30-4:30
地点:新单位,永嘉路50号(近陕西南路)
费用:每位30元(免费供应咖啡和茶)

新单位与新车间已经组织了几次"新山寨"活动来探讨开源式硬件和开放创新。大约一年以前我们与SeeedStudio和IDEO合作组织过两次。这次我们希望与DFRobot共同延续这个系列。我们要请了DFRobot的创始人叶琛博士来分享他的经验以及如何创立了DFRobot,还有他如何进入Arduino HCR领域及开源式硬件是怎样帮助了他的业务发展。
关于叶琛 博士
DFRobot合伙人兼CEO。2007年完成了英国诺丁汉大学工程学博士课程。随后担任机器人研究所研究员,并参加了一系列欧盟重大项目的研发和管理。2008年发起了开源硬件项目"HCR",2009年回国参与创建DFRobot并担任CEO至今。主要醉心于家用机器人的开发,人工智能的技术的应用以及开源硬件的发展。
[/lang_cn]
Registrered users for this event:
(in total 11).