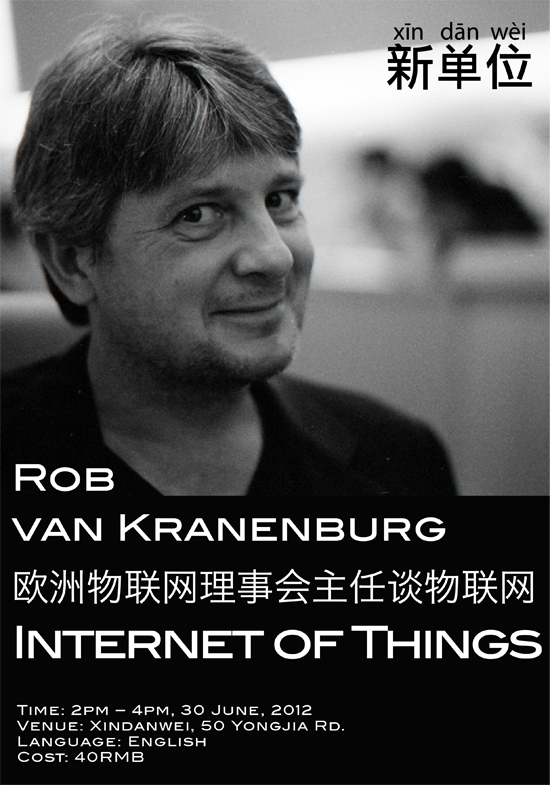 [lang_en]Rob van Kranenburg: Internet of Things
Time: 2pm – 4pm, 30 June, 2012
Venue: Xindanwei, 50 Yongjia Rd.
Language: English
Cost: 40RMB
Notice: This event is by reservation ONLY. Please complete the reservation form on this page before you come.
The Internet of Things (IoT); imagine a world where everything can be both analogue and digitally approached – reformulates our relationship with objects – things- as well as the objects themselves. Currently we can discern two main blocks of thought on IoT. The first is a reactive framework of ideas and thought that sees IoT as a layer of digital connectivity on top of existing infrastructure and things. This position sees IoT as a manageable set of convergent developments on infrastructure, services, applications and governance tools. It is assumed that, as in the transition from mainframe to Internet some business will fail and new ones will emerge, this will happen within the current governance, currency end business models. The second is a proactive framework of ideas and thought that sees IoT as a severely disruptive convergence that is unmanageable with current tools, as it will change the notion of what data and what noise is from the supply chain on to 'apps'. Read more (PDF) for the lecture .
About Speaker:
Rob van Kranenburg (1964) founded Council, a thinktank for the Internet of Things, to bring this latter perspective into the heart of the debates. He is Chair of the Working Group Societal of the IOT Forum, member of the Expert Group on IOT for the European Commision, and Stakeholder Coordinator for IoT-A. Mr. van Kranenburg will travel in Shanghai for IOT 2012 China in this late June.[/lang_en]
[lang_cn]欧洲物联网理事会主任Rob van Kranenburg谈物联网
时间:下午2点,2012年6月30号
地点:永嘉路50号,新单位
语言:英文
费用:40 元
注意:此活动须申请预约, 请将您的姓名,职业,联系方式填入本页底部的申请表。
物联网(IoT), 一个万事万物模拟和数字均可感知的世界,正在重塑世上万事万物的关系,且改变事物的本身。物联网认识论现可分两大派系。一派坚信物联网只不过基于现有网络基础和事物的数字联接层,即被动构架流派。持此观点自然理解物联网的形成是基础设施、服务、应用和治理手段的逐步完善和可控的过程。可以假设随着主流百业围绕互联网转型,有些现有业态将消亡,而新业态会产生,但一切都在现有的治理模式和货币结算的模式框架下发生,无不例外。另一派则视物联网,以现有手段,是不可控的极度混乱汇集的主动构架流派,所以从供应链到应用层,何为数据何为噪点的判断均将改变。讲座内容PDF下载 。
关于演讲者:
Rob van Kranenburg 于1964出生,创立欧洲物联网理事会(Council)。理事会已成为欧洲物联网智囊,并促进了物联网技术及其潜在价值在欧洲各界,尤其在政界和商界的广泛认识和认同。van Kraneburg先生是欧洲物联网(the Working Group Societal of the IOT Forum)论坛秘书组的主席,欧联盟物联网专家组成员和欧联盟IoT-A项目出资方协调人。van Kraneburg先生将于本月底参加在上海举行的第三届中国国际物联网大会,新单位很荣幸能借次机会请他来就物联网做公开演讲。[/lang_cn]
[gravityform id="2" name="Event Application" ajax="true"]