bookable event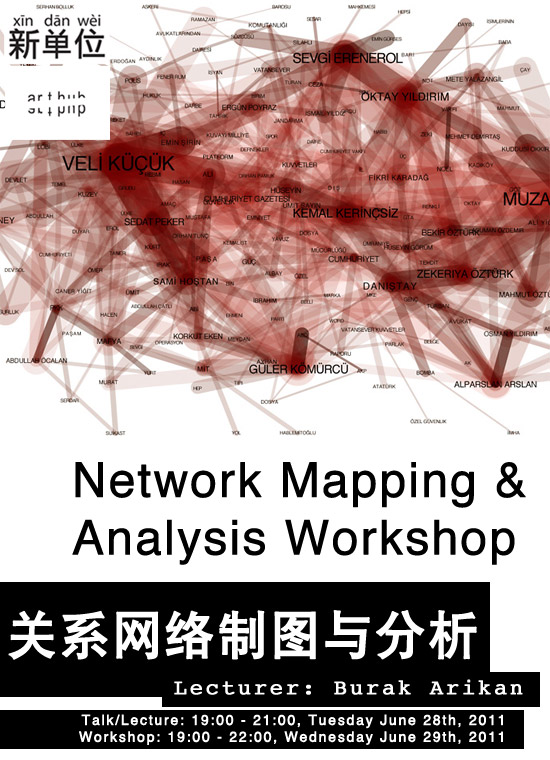 Network Mapping & Analysis Workshop
Burak Arikan, artist, ITU architect, MIT Media Lab alumni/ITP adjunct, this year's ISEA co-chair (bio here) is coming to Shanghai in the end of June, and is giving out lecture and workshop.
Time: Talk/Lecture: June 28th, Tuesday, 19:00-21:00
Workshop: June 29th, Wednesday, 19:00-22:00
Venue: Xindanwei, 50 Yongjia Rd., Shanghai
Cost: 30 rmb/person/night, coffee and tea served
Lecturer: Burak Arikan
Organizer: Xindanwei, Arthub Asia
About the event:
One day workshop focusing on the design and understanding of complex networks through mapping and visual analysis. Starting from hands on simple drawing exercises participants gradually build complex compositions on the computer. Emphasis on network topology, relationship types, information modeling, visual analysis, centralization, and clustering. Participants learn the most through observing, sketching, collaborating, and participating in the discussions.
Graph Commons will be used for the exercises.
http://graphcommons.com
PART I: How to map networks?
Graph theory, relationship types, network topologies, modeling
PART II: How to analyze networks?
Centralization, clustering, structural holes
About the lecturer:
Burak works with network structures and dynamics to explore issues in techno-politics and alternative economics. His creative network workshop series is focusing on the design of large scale networks as a creative activity and expanding the individual's thinking about the network as a creative medium.
More info about the network mapping and analysis workshops:
http://teaching.burak-arikan.com/creative-networking
More info about my work and bio:
burak-arikan.com
About Co-organizer:
Arthub Asia www.arthubasia.org
————————————
Check out event photos on Xindanwei Flickr page:
http://www.flickr.com/groups/xindanwei/
Check out event video (only available on the first day lecture) at Youku:
http://v.youku.com/v_show/id_XMjgxMTUzNzAw.html


Registrered users for this event:
(in total 36).