bookable event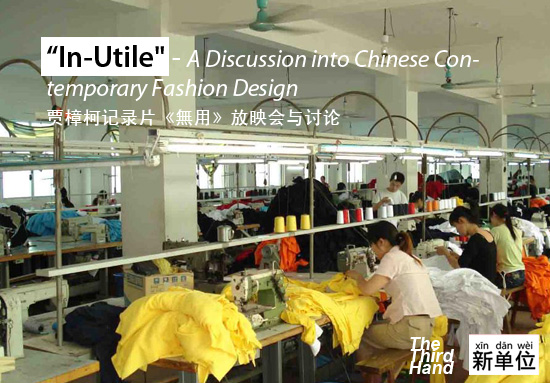 [lang_en]
"In-utile"
- A Discussion into Chinese Contemporary Fashion Design
Organizer: The Third Hand
Time: 15:00 – 17:00, Sunday April 17, 2011
Location: Xindanwei, 50 Yongjia Rd
Language: Chinese & English
Cost: 30RMB/person (covering fresh ground coffee and tea)
Event Schedule:
15:00 Brief Introduction to The Third Hand Project & the Documentary "In-utile"
15:15 Movie Time (clip)
15:55 Break
16:00 Discussion on Local Fashion Industry
17:00 End
About the Event
Have you ever thought about the role clothes are playing in our life? Nowadays, as brands of any kind are flooding the whole fashion industry with lots of manufactured garments, we almost forget the importance of wearing clothes that we like. This Sunday afternoon at 3PM, come to gather and share with us your thoughts. First we will watch "In-utile", a short documentary about the unconventional work of Ma Ke (马可), a Chinese fashion designer. Join us after for an open discussion.
Hope to hear from you here!
About the documentary:
The tropical humidity of Guangzhou. A garment factory. Some young workers coming from all across the country to work in the hot hectic of a plant. Fashionable clothes produced on an assembly line to be sell everywhere after. The design of the independent brand EXCEPTION is also coming into being. The young designer Ma Ke (马可) and her friends are creating a unique "exception". She wants it to be her own fashion, history and culture combine into a clothing design. In the upcoming Paris Fashion Week 2007, Ma Ke (马可) will bring a "In-utile" series of garment to the fashion capital.
The movie is part of the "Artist Trilogy" from the director Jia Zhangke and won the Horizons Documentary Award at Venice Film Festival in 2007
About The Third Hand:
The Third Hand use the redesign of second hand clothes to convey emotions. Old clothes carry with them their own history and often represent for oneself more than an a simple product. The Third Hand is an attempt to pursue further the on-going emotional story hidden inside every cloth.
The Third Hand is a personal project from Qu Hongyuan AKA Yuan, a young fashion designer.
[/lang_en]
[lang_cn]
贾樟柯记录片《無用》放映会与讨论
组织方:第三只手
时间:2011年四月十七日,周日,下午三点到五点
地址:新单位,永嘉路50号
语言:中文和英文
费用:30元/每人(包括现磨咖啡和茶水)
活动安排:
15:00 活动介绍
15:15 电影(片段)放映时间
15:55 休息
16:00 讨论中国当前时装产业
17:00 结束
活动介绍:
我们为什么要穿衣服?服装到底在我们的生活里扮演了什么角色?这个星期天下午三点钟,欢迎你过来分享你的想法。我们先要看《無用》,一部关于一个与众不同的中国设计师"马可"的记录片。然后大家一起开放性地讨论一下现代中国服装产业的现状。
我们希望在这里听到你的声音!
关于"第三只手":
"第三只手"通过对二手衣服的再设计,来传达某种情感。二手衣服原本就经历了很多故事,它已不单单是一件普通的商品。所以"第三只手"想延续以及传承每件衣服的历史情感。"第三只手"是年轻的设计师曲宏媛Yuan的个人新计划。
关于电影:
炎热潮湿的广州,某服装厂内,来自祖国各地的青年职工在喧嚣闷热的厂房中紧张忙碌。靓丽新潮的服装经一道道工序制作出来,行销各地。独立品牌EXCEPTION(例外)的服装也在此诞生;青年设计师马可与好友创立了别具一格的"例外",她将自己对时尚、历史、文化的感悟全部融入服装设计之中。在即将到来的2007年巴黎时装周,马可带着"无用"系列来到这个时尚之都…….本片为贾樟柯"艺术家三部曲"第2部,并荣获2007年威尼斯电影节地平线单元的最佳影片。
[/lang_cn]
Registrered users for this event:
(in total 15).