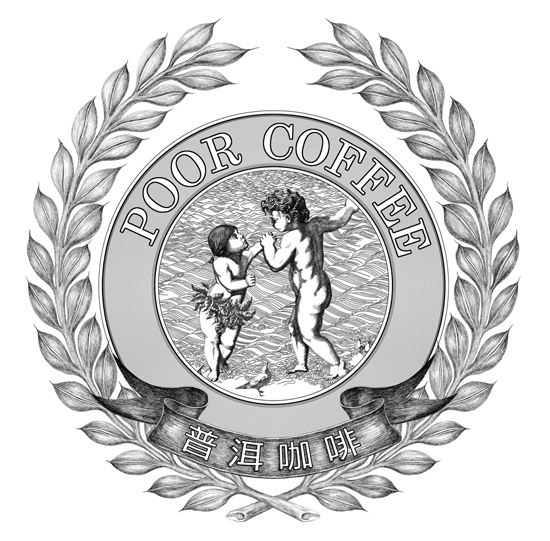 [lang_en]
Poor Coffee – An Art Project
Poor Coffee is an art project by artist ZHENG Yuan-Han. It is now presented at Xindanwei and can be ordered from the Xinkafei menu.
Duration: 26th May 2011 – To Be Informed
Location: Xindanwei, 50 Yongjia Rd., Shanghai
Cost: 35 rmb/cup
Artist:  ZHENG Yuan-Han
About the Poor Coffee:
This project is about Mixing, Lineage, Time, Memory, Emotion and Life. By mixing two common tastes from daily life, the traditional information within each of them evolves into a brand new way of thinking and experience.
Poor Coffee is a beverage composed of authentic coffee and fermented Pu'er tea. Looked at from the perspective of its timeline, its cultural background and tradition, Pu'er and coffee are heavily symbolic beverages.
"Poor Coffee" is both a public installation and a space to provide a service. It can be set up in a particular place by hand, and then exists and serves as a node for people to meet in. Through the Poor Coffee installation, the information being conveyed and exchanged in this particular space can be stored in the artwork, thus, this exchange of information conveys the new thinking and experience which are advocated by Poor Coffee.
The new thinking embodied in the drink considers how, in our short lives, we can experience a state which is more peaceful, more open, more tolerant and integrating wisdom within this impulsive and chaotic world.
This new experience of coffee together with Pu'er tea, combines eachs long history as well as their beautiful legends. They are also similar in colour and the emotion, and their profoundness lies in their deep colour. Coffee is refreshing with its distinctive aroma, tasting bitter at first, followed by sweetness. Similarly, Pu'er tea's bittersweet taste leaves people with an aftertaste of a legacy of history and reverie.
Coffee finds itself in every corner of the Western world and is closely related to space as a form of culture. Tea enjoys the same position in Asian cultures, such as China, Japan and India. Tea is also a noble beverage in Western countries with an exotic touch, and it becomes a key product in our time advocating the concept of nature, environmental protection and the maintenance of health. Pu'er itself enjoys a long history and its nature, colour and taste resemble those of coffee to a considerable degree. The combination of these two drinks can generate a special emotion and multi-level taste, which also embodies the diversity of culture.
Confronted with globalisation, the turbulence and shocks in the world; facing terrorism, assassination, coups, tsunami, earthquakes and the decline in morality in human beings – what has become of us? Where have all the glorious ideas of the philosophers gone? What about the humanism that we used to have? Poor Coffee is more than just a new taste and a new cultural thought, it is also a time machine which makes time stand still. It's a complement to life, and it's about a hope for "slowness".
The form of the piece:
The artwork "Poor Coffee" can be presented in various forms. It can be as large as a real cafe or as small as a sign or a mobile installation. It is omnipresent. Each one of the potential forms can be the external experience conveying the inner information within the piece.
The piece provides free WIFI on site when displayed. The surroundings will be integrated with the piece for the external experience that Poor Coffee creates.
Visit the project's website: Poor Coffee for more information.
[/lang_en]
[lang_cn]
普洱咖啡──一个艺术计划
普洱咖啡是艺术家郑云瀚的艺术计划。目前这个计划正以新咖啡特殊饮品的方式在新单位展出。
时间: 2011年五月开始,结束时间未定
地点: 上海市永嘉路50号,新单位
费用: 35 元/杯
艺术家:  郑云瀚
关于普尔咖啡:
这个计划是一个关于"混杂"、"传承"、"时间"、"记忆"、"情感"与"生命"的作品。通过混杂日常中两种普通的味觉,进而带动他们背后所传承的信息进化成一种"新的思考",一种"新的体验"。 普洱咖啡:是将纯正的咖啡和发酵后的熟普洱茶混合处理的饮料。无论从时间线索,文化线索还是习惯反应来讲,普洱茶和咖啡都是这个世界上最具有代表性的饮料。 普洱咖啡既是一个公共装置,也是一个服务空间。他可以在一夜之间切入一个环境内,在空间中作为一个节点而存在。通过普洱咖啡这种饮料为触角,将空间中交流交换的信息保存在作品中。通过信息的交换传达出普洱咖啡所倡导的"新的思考""新的体验"。
"新的思考"是在浮躁混乱的现实世界里,怎样才能用一种更加"平和",更加"开阔",更加"包容",更加"融智"的状态来行走我们短暂的生命体验。 "新的体验"咖啡与熟普洱茶同样具有着悠久的历史和美丽的传说。在汤色与情感上有类似的地方,浑浊中透着空冥。咖啡醇香提神,先苦后甘,普洱茶同样是回甘青涩,细品之下有历史的余韵和遐思。
咖啡根植到西方世界的每一个空间,作为一种文化与空间紧密相连。茶——具有同样的地位在中国、日本、印度等亚洲国家,同时作为西方异国情调的高雅饮品,成为当代讲求自然、环保、养生理念需要的必需。普洱茶的历史很悠久,普洱本身的品性、色泽、味道在很大程度上与咖啡具有一定的相似性。两种饮料的综合可以产生一种特别的情绪,在口感上多层次的感受,也是文化思考上 多重的体现。 直面当下全球性,浮动与碰撞不断的背景下,恐怖袭击、暗杀、政变、海啸、地震等天灾人祸,以及人类个体的道德缺失。我们到底怎么了?之前那么多伟大哲人的思想那里去了?我们所拥有过的准则那里去了?普洱咖啡不仅仅提供了一种新的味觉,新的文化思考,同时也是使时间停留的时光机器,也许会是一种生活的调剂,也许是关于"慢"的希望。
作品形态:
普洱咖啡可以有很多种形态,大到一个真正的咖啡馆,小到一个标牌或者是一个移动的装置⋯⋯无可不可,无处不在,都可以是传达出作品内在的信息的外在体验。 作品呈现时有免费的WIFI对环境开放,这一换杂的环境,是普洱咖啡为外在体验所创造的融合空间。
想要对这个计划了解更多,请进入普洱咖啡网站。
[/lang_cn]