bookable event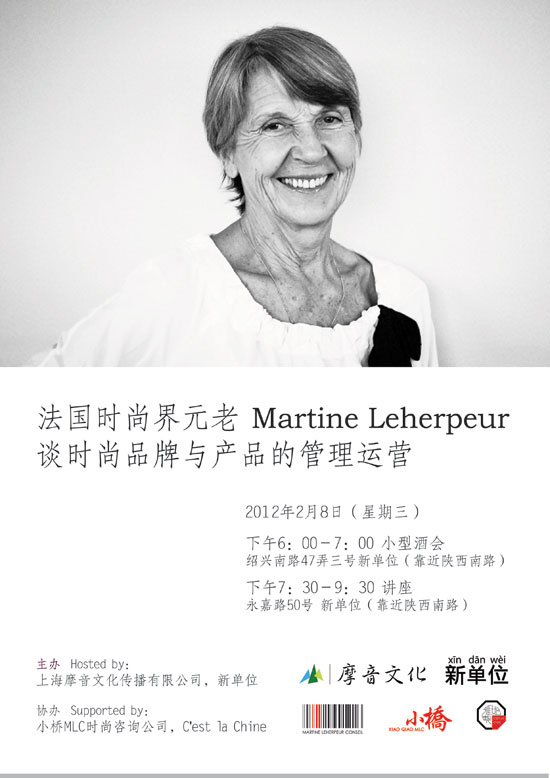 [lang_en]
"My Perspectives on Fashion Brand Strategy and Product Management"
Time: Feb 8, 2012
6:00-7:00pm, reception @C'est la Chine, second floor of Xindanwei property, No. 3, Shao Xing Rd 47 (close to Shaanxi Rd South)
7:30-9:30pm, seminar @Ground floor of Xindanwei, Yongjia Rd 50(close to Shaanxi Rd South)
Hosted by:Moyin Cultural Communication Co. Ltd, Xindanwei
Supported by: PETIT PONT MLC Fashion Consulting,C'est la Chine, 
Cost:30RMB (including fresh coffee and tea)
Attention: This event is limited to professional and media in the fashion design and lifestyle industries ONLY, please RSVP your name, organization and phone number to xindanwei@gmail.com before Feb 6, 2012, we will confirm your attendance by email.  
By Martine Leherpeur
Fashion management consultant guru Martine Leherpeur will share her 40 years experience and some useful tips in Fashion Brand and product management for fashion professionals, startups and designers. She will also share her perspectives on the development of Chinese fashion industry.
About Martine Leherpeur :
A PERSONALITY
1967-1975 : A product experience of 8 years in Mafia, the first style agency in France.
A TASTE FOR WORDS AND FASHION INFORMATION
1975-1985 :  10 years as an independent journalist for ELLE, the Harper's Bazaar and Women's Wear Daily.
Passions : art, creation, innovation, travels, sport
1987:  MARTINE LEHERPEUR CREATES HER OFFICE IN THIS PROSPECT
A continuous watching of emerging phenomenon in design and beauty  areas filling out the reflection of the firms in their product developments
Martine Leherpeur Conseil :  « A prospective, brand strategy and product design » office, to coach French and International firms in fashion, sport, beauty-cosmetic, decoration, food… all along the creation process.
Professor of product management, IFM, one of the leading world specialists in fashion and product strategy.
Martine Leherpeur regularly creates and implements creativity seminars for firms and institutions.
2004: CREATION OF « PETIT PONT »  IN CHINA
It is an operational structure with a local team that works in coordination with the Parisian Office.
[/lang_en]
[lang_cn]
法国时尚界元老Martine Leherpeur谈时尚品牌与产品的管理运营
时间:2012年2月8日
下午6:00-7:00 小型酒会,绍兴路47弄三号新单位二楼C'est la Chine(靠近陕西南路)
下午7:30-9:30 讲座 ,永嘉路50号新单位(靠近陕西南路)
主办:上海摩音文化传播有限公司,新单位
协办Supported by:小桥MLC时尚咨询公司,C'est la Chine, 
费用:30元 (包括一杯现磨咖啡或茶水)
注意:此活动只针对时尚设计行业的专业人员和生活时尚类媒体,请在2月6日之前将您的姓名,工作单位及联系电话发给xindanwei@gmail.com, 我们收到邮件后会回信与您确认。
特邀主讲嘉宾Martine女士将与大家分享她在法国时尚界40年的从业经验,为致力于打造自己品牌的设计师们提供她自己在时尚品牌运营方面的实战心得体会。同时,她也将与大家分享她对于中国时尚文化发展的独特观察。
关于嘉宾:
Martine Leherpeur,法国著名设计管理专家,20年的中国通,40年的时尚界元老,IFM清华大学教授
法国Martine Leherpeur Conseil (MLC时尚咨询公司)的创始人。2012年1月9日获得法国国家功勋骑士勋章,以表彰其在时尚文化领域和中法文化交流领域所做出的杰出贡献。
作为国际知名时尚咨询顾问,Martine Leherpeur女士从事时尚行业超过40年时间,与多位世界著名服装设计师保持长久而深厚的友谊,其中包括伊夫圣洛朗,三宅一生等。她服务的客户覆盖奢侈品、服装、化妆品,汽车,食品及零售行业,从法国、意大利、德国,美国,俄罗斯,日本到中国 。
1967年到1975年之间,Martine Leherpeur女士在发行全世界第一本流行趋势手册的法国MAFIA时尚咨询公司担任时尚咨询顾问。而后的十年之间,分别在法国《Elle》美国《Harper's Bazaar》,《Vital》担任时尚编辑。1987年,创办了MLC时尚咨询公司,从1991年开始在IFM(巴黎时尚管理学院)担任教授,教授品牌产品战略。2006年受聘为清华大学商学院时尚管理EMBA 课程的特邀资深教授,教授品牌战略和创意营销专业。
Martine Leherpeur女士热爱生活,热爱滑雪,登山,骑马,帆船等运动。曾驾驶帆船三次横渡大西洋,并成功登顶欧洲最高峰勃朗峰。
Martine Leherpeur女士热爱中国,自1979年第一次来华后,每年多次来中国授课及商务交流,并于2004年在上海成立了MLC中国分公司:小桥MLC时尚咨询公司。
MLC时尚咨询公司从1987年成立至今,服务的国际时尚品牌不计其数,奢侈品牌有:Louis Vuitton, Kenzo, Hermès,  Christian Lacroix, Courrèges, Lancel, Dior, Emilio Pucci,  Escada等;中高端及大众品牌有:家乐福, 欧莱雅集团旗下品牌,艾格法国, Gap, 123, KOOKAÏ, Morgan, Dormeuil,  Comptoir des Cotonniers, Chantal Thomass, Chantelle, Aubade等;国际运动品牌有: Adidas, Nike, Converse, Fila, 迪卡侬, Le coq sportif, Quiksilver, Aigle , 环法自行车赛衍生产品开发等。 小桥MLC在中国市场的客户有美特斯邦威,太平鸟,马克华菲, 九牧王集团,佰草集, UR , 亦谷女装, 风笛服饰, 贝甜童装,中国艾格,中国Cachecache,中国Lotto,中国Dior, Moncler, Dirk Bikkembergs,巴黎老佛爷商城 等。ABOUR MARTINE LEHERPEUR
[/lang_cn]
Registrered users for this event:
(in total 18).