bookable event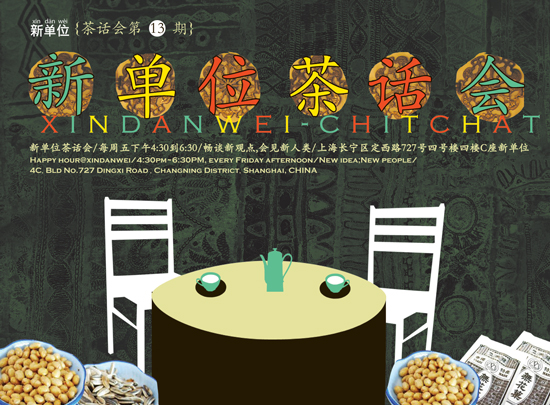 [lang_en]
xindanwei chitchat edition 13: BEAN -the largest volunteer organization in Shanghai
Time: 18:30-20:30pm Friday July, 23th
Cost:free
BEAN – Shanghai, the winner of the 2009 and 2010 Best Charity award for Shanghai, hosts community outreach events every weekend and several weekdays a month.  With over 1,800 members, BEAN is the largest volunteer organization in Shanghai. BEAN helps connect people with ways to contribute to the local community through long-term projects and one-off events that support both its own endeavors and other area charities.  The philosophy of the organization is that everyone should have the opportunity to give back, regardless of language ability, time commitment, or skill set.
[/lang_en]
[lang_cn]
新单位茶话会第13期:BEAN-上海最大的志愿者性质慈善组织
时间: 7月23日(周五)18:30—20:30
费用: 免费
BEAN于2009年和2010年连续两年赢得了"上海最佳慈善组织"称号。BEAN现有会员1800多名,是上海最大的志愿者性质的慈善组织。BEAN积极与社区合作,利用每个周末以及部分工作日的时间,组织形式多样的活动,联系、鼓励来自各行各业的志愿者们为 社区的发展献上一份力。我们看到,这些活动的开展对于当地社区和慈善组织都是一种强有力的支持。我们的理念是,无论一个人能力大小, 可供支配的时间多少,也不管是否有语言交流上的障碍,每个人都应该有机会回馈社会。BEAN致力于创造,提供这样的机会。
[/lang_cn]
Registrered users for this event:
(in total 22).